RedZoneAction.org Blog
Available tags:
Block of Granite (0/254)

,
Coaches Corner (0/2)

,
Howtos (0/10)

,
Jack6s RZA Guide (0/21)

,
News (0/454)

,
Rumours (0/0)

,
Stories (0/4)

,
Top25 Rankings (0/22)

2018-11-14 07:05
And we have the first high profile coach getting the pink slip.

Bobby Petrino, HC of Louisville since 2014, was fired after another loss (against Syracuse) which did put the team on a 2-8 record.
He had won until then 77 games and lost 35 with Louisville.
Don't feel too sorry for him, he will get 14 mio in compensation ....

We will see, which Coach Louisville will try to get next, some say they will try to get Jeff Brohm, right now Purdue Boilermakers HC.
Not sure they will get him, since he gets almost the same at Purdue and has something going there.
And he might get better offers from other schools, once the season is over.
The only thing which might be in favor of Louisville is, that Brohm is a former Cardinal player and eventually wants to coach at his Alma Mater.

However the season is not over and some teams will play for their lives, for a bowl spot, for a division title and more.

One team did get their title already after this weekend, Northwestern did clinch the division after their win against Iowa, on the road.
It might be strange that a team with a 6-4 record, which did now clinch also a bowl spot, did get the ticket to the conference championship game now, while their most likely opponent, Michigan, is still not sure and has already 9-1, but that's how the game is.
Northwestern can not fall behind the other teams now, so they get the ticket, regardless the record.
Of cause this matchup against Michigan or Ohio State will not be in their favor, but you never know.

Also clear to play for the conference is now Clemson, even that was not really a surprise, after they won against Boston College.
Whoever will play against them in the title game will face a very good Tigers team.

Some games left and those will for sure shake up the conferences and the top 25, so don't miss the rest of November.

Those 4 games were the BLOCK OF GRANITE GAMES FOR WEEK 10

Fri. Nov. 9
#23 Fresno State @ Boise State
Boise State too care of business and did show that they are a force in the Mountain West, won this game, at home against that good Bulldogs team, by 7 points.
Both divisions are not set right now, both can be won or lost in the next few weeks.
Boise State will have to battle Utah State to get the division (if they win against New Mexico next week) while Fresno State has to win against San Diego State next week (and don't stumble over San Jose State a week later).
If this all happens, Boise and Fresno will meet again for the conference title.
#23 Fresno State 17 - Boise State 24 -> Jacks TOP GAMES Score: 23-16

Sat. Nov. 10
#10 Ohio State @ #18 Michigan State
The Spartans did play OK I guess, but Ohio State did play a bit better and were able to score, which MSU was not able to do often.
Overall the game did not convince me that Ohio State will really play their A-game right now and I fear THE GAME against Michigan will be not that open as we all would wish to have it.
Something is lacking in the offense of Ohio State, hopefully they will fix that fast, but since it is lacking since some weeks, this seems to be false hope.
Ohio State will face a must win game against Maryland next week and then the GAME is looming at home.
MSU on the other hand can only play for a better paycheck from a better-suited bowl, but facing slowly getting better Nebraska at home will be touch and they then have to play a bad Rutgers team, which will likely help with the 'W's at last.
#10 Ohio State 26 - #18 Michigan State 6 -> Jacks TOP GAMES Score: 24-16

Sat. Nov. 10
Northwestern @ #21 Iowa
As said has Northwestern won this game in a tough battle.
They trailed late in the 3rd quarter, but scored a game winning TD in the 4th.
The Hawkeyes did see their season fall apart, losing now 3 in a row and falling from division title favorite to mid level, still in danger to fall even further.
At least they had 6 wins already before the losing did start, so they will play in a bowl for sure.
Iowa has to play Illinois on the road next and then Nebraska at home.
Northwestern will face Minnesota in the road and Illinois at home before they will play the other division champ for the conference title.
Northwestern 14 - #21 Iowa 10 -> Jacks TOP GAMES Score: 24-17

Sat. Nov. 10
Virginia Tech @ Pittsburgh
Pitt is almost through with the division title race. This win over VT did put them in the best situation possible, leading by 1 game ahead of Virginia to whom they have the direct compare advantage.
Means, they need just 1 more win or 1 more Virginia loss and they play for the conference title.
Can't say they will have an easy remaining schedule, playing on the road against Wake Forest AND Miami in the next 2 weeks.
But the Cavaliers do also have 2 road games, so it is quite likely that Pitt, even if they lose, will get the shot against Clemson.
Virginia Tech had high hopes at the start of the season, but are now only 4-5 (with the game against East Carolina missing) and will face now Miami and Virginia in the next games to get bowl eligible.
Not easy.
Virginia Tech 22 - Pittsburgh 52 -> Jacks TOP GAMES Score: 25-17

Other interesting games:

Sat. Nov. 10
Oklahoma State @ #6 Oklahoma
Likely the most exciting game of the gameday, with OSU scoring late with a deep pass to get behind with just 1 point before the extra-point.
Gundy not shy of making tough decisions did go for 2.
Unfortunate for them did they play a bad executed short pass aimed for the pylon, which was passed in the back of the receiver and the Sooners did deflect the ball.
Oklahoma did win the game 48-47 and stayed in the hunt for the BIG12 Championship game, even without a defense.
Jacks interesting games Score: 27-12

Sat. Nov. 10
Temple @ Houston
Temple did win in a high scoring game 59-49. Houston now with 2 losses inside the conference on the same page as SMU and Tulane, but direct compare is in favor of SMU.
Temple still 1 game behind UCF.
Jacks interesting games Score: 27-13

Sat. Nov. 10
#19 Texas @ Texas Tech
Tech did wake up in the 4th, but that was not enough to avoid a loss here.
The Longhorns won the game 41-34.
Texas still in waiting mode to get a chance back into the championship game, Tech now in the lower end of the BIG12.
Next for Texas is Iowa State and Kansas, while Tech has to play Kansas State and Baylor.
Jacks interesting games Score: 28-13

Sat. Nov. 10
#2 Clemson @ #17 Boston College
Boston lost their starting QB in the first drive and from that point on it went downhill, even if the backup did play quite well.
Less than 100% is not enough against a good Clemson team, which won 27-7 and won the division.
Clemson now faces Duke and rival South Carolina, BC travels to FSU and plays Syracuse.
Jacks interesting games Score: 29-13

More astonishing results from the weekend:
Wake Forest did beat NC State on the road 27-23. Wake Forest still needs 1 win to get the 6 wins for bowl.
Tennessee won against Kentucky 24-7. Luck went out for the Wildcats who lost now 2 in a row.
Eastern Michigan got their 6th win by beating Akron 27-7. So maybe they go for a bowl 2nd time in 3 years. But hard to get Bowl spots as MAC team, even with so many spots available.
Minnesota did destroy Purdue 41-10. Minnesota also needs 1 more win for a bowl spot.
Cal won against USC 15-14. Rumors are, Clay Helton will not survive the season as USC HC.
UNLV did upset San Diego State 27-24. SDSU now in bad position for the division title.

Next week does unfortunately not have many interesting games (at least from my point of view), since most teams do have either quite high margin favorite or underdogs lines or they have cupcake games to stay in shape for the rivalry weekend on the next weekend.

Overall I did s e l e c t 6 games to have a look at, divided by 3 and 3 regarding top games and other games.

I selected these 3 games as the BLOCK OF GRANITE GAMES FOR WEEK 12

Sat. Nov. 17
#13 Syracuse vs #3 Notre Dame
Notre Dame is very close to get a playoff spot, they only need to win further.
This week they face Syracuse on neutral site in New York Yankee Stadium and a week later they face rival USC in L.A.
Some say they might not win both games and that's totally possible.
Syracuse does have a great season so far, going 8-2 until now, and did play some tough games, losing only on the road against Clemson and Pitt.
The Irish did used their backup QB last week because the starter had injury issues and might bring in the starter or the backup against Syracuse.
Their best weapon is likely the running game, so if that works against the Orange, the game should be OK.
The Orange will have to adjust from that soft Louisville defense and will have a hand full of problems scoring against the Irish, if Notre Dame brings their A-game.
Notre Dame is favored to win by 9.0 points, which is OK, but not much and does give Syracuse credit.
I'm still not convinced Notre Dame is really 3rd best team in the country, but I think they can and will beat Syracuse, thanks to a strong running game and a strong defense line.
Fighting Irish win.

Sat. Nov. 17
#22 Iowa State @ #19 Texas
The Cyclones had a disappointing season start (1-3 after a canceled first game against South Dakota State (FCS)) but did win then 5 in a row and earned a spot 1 win behind Oklahoma and West Virginia.
Losing today against Texas would eliminate them from any consideration for a BIG12 Championship game spot with only 1 left to play inside the BIG12 afterwards.
Winning this would not only send the direct opponent Texas, who is also 1 game behind Oklahoma and West Virginia, into the pit, it would also leave a chance open to enter the BIG12 Championship game.
Because Oklahoma and West Virginia will play it out soon and Iowa State has won against West Virginia, so if both teams would have the same win amount, Iowa State would jump forward.
Motivation should not be an issue here, right?
But same is valid for Texas being in the same situation, only the did win against Oklahoma, so if those teams would have the same win amount, Texas would jump them.
I guess next week Iowa State will eventually cheer for Oklahoma or Texas will eventually cheer for West Virginia.
Before such considerations is the game itself, played at Texas, which makes Texas a 3.0 point favorite.
This is a question of stubbornness I guess.
On paper I'm with Vegas, expecting Texas to win, but Iowa State did prove they can be too stubborn to let go, too stubborn to roll over and let Texas win.
And Texas did proof they are often too stubborn to lose. The team could be easily a lot worse in terms of record, if not for some luck and magic.
My heart says this will be a great Cyclones win, in a close one, my head says, Texas will do just enough to hold off the Cyclones and win this.
Heart or head?
In doubt I usually take the home team, so Texas it is.
Longhorns win.

Sat. Nov. 17
Cincinnati @ #12 UCF
An interesting situation inside the American Conference.
Cincinnati did lose against Temple, UCF did win against Temple and if Cincinnati would win against UCF we would have a 3 team tie with some deeper tie breaker taking over (at least until next week).
But is it realistic that the Bearcats beat the Knights?
UCF is only favored by 7.5 points, which is not much if you think about their winning streak, their self claimed national title and the fact that they are ranked since start of the season, while Cincinnati did fall out of it after their loss against Temple and reentered it last week.
Central Florida would love to get a playoff spot to prove they are legit, but will likely have to settle with a new years bowl spot IF they win here and the conference championship game and stay unbeaten.
Rising in the ranks is highly unlikely.
I'm still confused they don't give UCF more credit playing at home against the Bearcats.
Either they don't see UCF as strong team, or they also see Cincinnati as one?
Honestly I never thought about UCF losing this one, and I still don't do that.
They did play very well and will likely outplay Cincinnati by 2 scores at least, at home.
Knights win.

other interesting games:

Sat. Nov. 17
Pittsburgh @ Wake Forest
This is the chance for Pitt to seal the deal, to clinch the division title. All they have to do is win on the road against that quite strong Wake Forest team they are favored to win anyway by 7.0 points.
But Wake Forest needs another win to get a Bowl spot and they can do that this week against Pitt at home or next week on the road at Duke.
I hope for a good match, but overall I think Pitt will win here.
Panthers win.

Sat. Nov. 17
San Diego State @ #23 Fresno State
For both teams it is must win time. Fresno State needs the win to seal the Division title, losing this game would put them in a much worse situation and they might lose a tie breaker against Nevada or San Diego State.
For San Diego State it's much more, since losing will eliminate them from the Division title race for good.
Fresno is favored by 12.5 points and with the latest results in my head the game could become a slaughterhouse.
Bulldogs win.

Sat. Nov. 17
#9 West Virginia @ Oklahoma State
On first sight this might be one-dimensional but Oklahoma State is not a bad team and at home usually a bit better than on the road.
The main question is, whether they can play against the best defense of the BIG12?
The betting line is -5.0 in favor of West Virginia which shows from my point of view the respect towards the offense power of OSU.
But ... I think that West Virginia will stuff OSU and wins.
Mountaineers win.

Don't forget your Pick'em picks.

'Til next time
Jack6 on BLOCK OF GRANITE
Tags: Block of Granite
Tweet
2018-11-10 14:44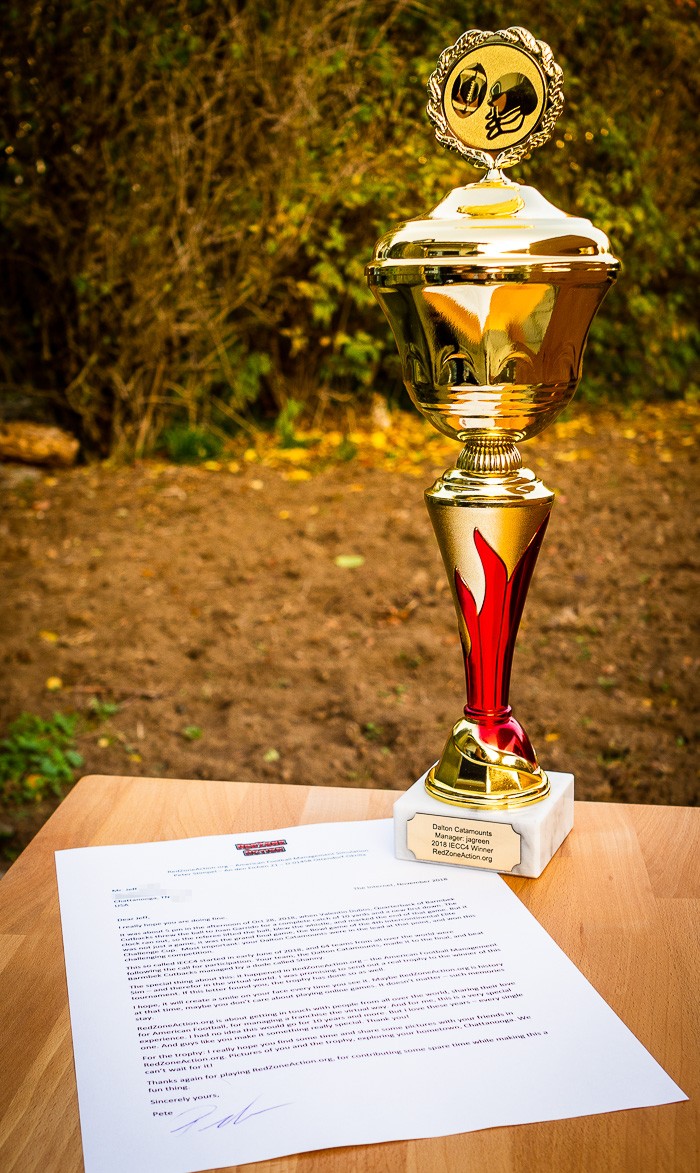 Since today this beauty is its way all the long way from Germany to Tennessee. We hope it will travel safe, customs won't consider it to be something strange, and Jeff can keep it in his hands in a few days from now.
Since Jeff has won the 4th International Elite Challenge Cup here in RedZoneAction.org, he really deserves this trophy.
Tags: News
Tweet