RedZoneAction.org Blog, tagged with News
Available tags:
Block of Granite (1/258)

,
Coaches Corner (0/2)

,
Howtos (0/10)

,
Jack6s RZA Guide (0/21)

, News (0/456)

,
Rumours (0/0)

,
Stories (0/4)

,
Top25 Rankings (0/22)

2018-11-28 19:51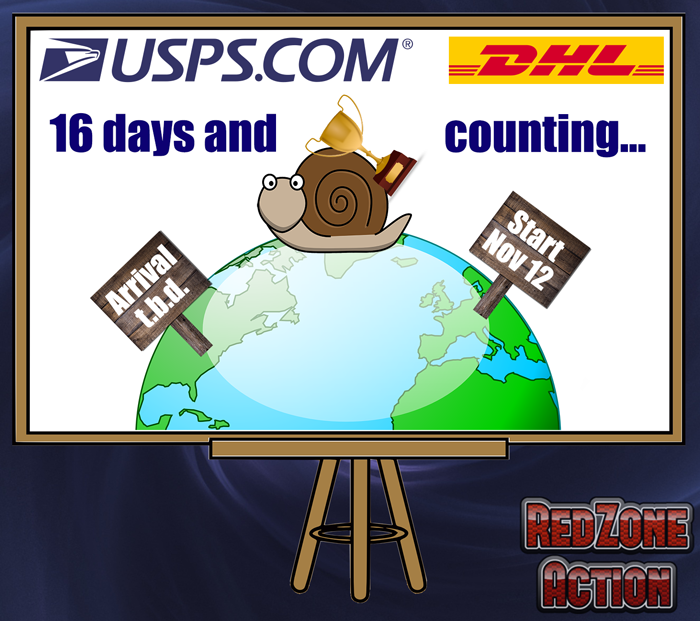 Is not coming to an end. A few weeks ago we sent jagreens IECC4 trophy to his home in Tennessee...please see the log yourself. :)
November 28, 2018
In Transit to Next Facility
Your package is moving within the USPS network and is on track to be delivered to its final destination. It is currently in transit to the next facility.
November 27, 2018, 7:10 am
Arrived at USPS Regional Facility
JERSEY CITY NJ NETWORK DISTRIBUTION CENTER
November 21, 2018, 4:37 pm
Processed Through Facility
ISC NEW YORK NY(USPS)
Origin Post is Preparing Shipment
November 14, 2018, 12:17 pm
Processed Through Facility
FRANKFURT/FLUGHAFEN, GERMANY
November 12, 2018, 4:38 pm
Acceptance
GERMANY
Hey USPS, could you hurry up a little, please? Jagreen is waiting...
Tags: News
Tweet