RedZoneAction.org Blog, tagged with Block of Granite
Available tags:
Block of Granite (0/200)

,
Brick's Picks (0/4)

,
Coaches Corner (0/2)

,
Howtos (0/10)

,
Jack6s RZA Guide (0/21)

, News (
1
/378)

,
Rumours (0/0)

,
Stories (0/2)

,
Top25 Rankings (0/22)

2017-01-15 18:44
Starting with season 25 the number of players to join the training is limited. The limit is calculated per positiongroup (QB, LB, K, ...), and does not cover players in your academy or players within their "free position change" period.

If the manager exceeds the limit, the ability of the coach to run the training is limited, and therefore the outcome of the training. Limited outcome affects all players of such a position group, including players in your academy.

The limits can be found in the manual under "Training".

If such a limit becomes active, the manager receives a notice inside his training report and the Pinboard. Until season 25 starts, the notices are warnings only, without any effect.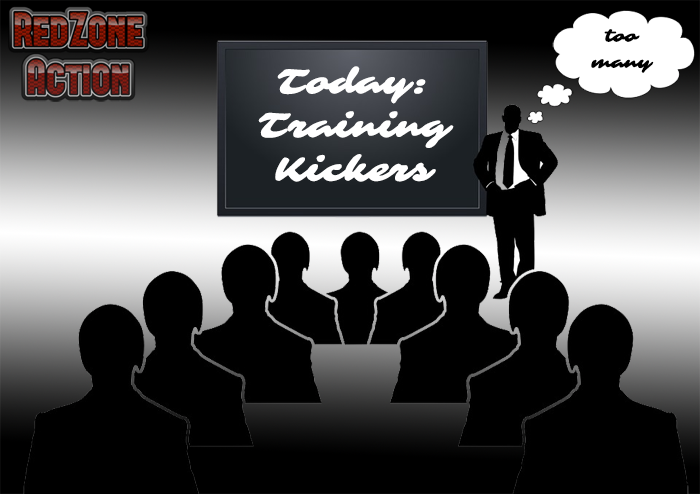 Tags: News
Tweet
2017-01-10 06:52
Well, it was not planned that way, but with my 200th blog entry I do finish the season 2016.

The new National Champion of the FBS level is Clemson!
A review of that game is way down.

Much was talked before the game and much has happened before the game, here some stuff.

Minnnesota has fired their HC Tracy Claeys after 1 season, in wake of the announced players boycott for the bowl game which was later taken back and his reaction on this.
The AD was concerned regarding the culture on campus, regarding sexual assaults (those suspended players, which lead to the boycott, were suspects in sexual assault cases) and did decide to start with a new coach.
This could be a winner for the school, because P.J. Fleck, the successful Western Michigan coach, who gambled on his next job and who had not landed any serious offer from a power 5 school until last week got the call to become the next Minnesota coach.

Also gone is Sonny Dykes, the coach of Cal. He was fired before the National Championship game after a 5-7 season.
To be fair, it seems both sided, HC and AD, were not satisfied with the situation and Dykes was interviewed several times for a new HC gig somewhere else, so it looks like the AD did hit the button to end this situation once and for all.
In discussion of the media to succeed Dykes is Chip Kelly, the fired 49ers coach.
Why? Because Cal is basically not having much money and both coach do get money from their old schools, so Cal would not have to pay too much.
We will see ... The interims coach, the OC, is also in discussion to get the job.

Another strange thing which happened was, that Lane Kiffin, new HC of Florida Atlantic, who was supposed to work for Alabama until they finish the season, was let go prior the National Championship game and former USC HC Steve Sarkisian was named OC for the game and for next season.
This has not happened in the past on any Saban staff, so it's anybody's guess why Kiffin had to leave.
Kiffin was known in the past, when he was a HC, to be a bit unconventional and behaving not according the usual rules.

Here are the BLOCK OF GRANITE BOWL GAMES FOR WAVE 6

Mon. Jan. 2 - 1:00 pm ET
OUTBACK BOWL
#17 Florida vs. Iowa
I do feel I did pick this not the right way, even I did pick Gators as the winners.
I never have thought that Iowa would be basically unable to score over the whole game.
Florida did win this in a big way and did maybe justify their ranking, but will likely even get a higher rank after this one.
Florida 30 - Iowa 3-> Jacks BOWL Score: 22-15

Mon. Jan. 2 - 1:00 pm ET
GOODYEAR COTTON BOWL CLASSIC
#15 Western Michigan vs. #8 Wisconsin
This was from my point of view a clear thing and only Wisconsin did let Western Michigan believe they had any chance.
The Badgers did play not a 100% and Western Michigan was able to score often enough to stay in reach for an unlikely upset.
At the end did Wisconsin win this and Western Michigan got their first loss of the season (and later the second, by losing their HC to Minnesota).
Western Michigan 16 - Wisconsin 24 -> Jacks BOWL Score: 23-15

Mon. Jan. 2 - 5:00 pm ET
ROSE BOWL GAME PRES. BY NORTHWESTERN MUTUAL
#9 USC vs. #5 Penn State
A good and high scoring game, which ended with a total Penn State collapse, giving USC the chance to win this, which they did.
USC did lead the game 27-21 at the half, but Penn State came out of the locker room after the break and went to a 49-35 lead.
Then did happen some turnovers and USC was able to tie the game with 1:20 left.
Penn State tried to get into FG range and did throw another interception, close enough for a game winning field goal.
Over.
USC 52 - Penn State 49 -> Jacks BOWL Score: 23-16

Mon. Jan. 2 - 8:30 pm ET
ALLSTATE SUGAR BOWL
#14 Auburn vs. #7 Oklahoma
Oklahoma did not really crush Auburn, but on the other hand did Auburn not really play a good game.
The Sooners did win this by their QB and their good defense.
For Stoops this is a good ending of the season, winning the BIG12 and the Bowl, it's the best he could get after the bad start.
For Auburn, this is a small setback and it will be interesting, whether the can rebound next season.
Auburn 19 - Oklahoma 35 -> Jacks BOWL Score: 24-16

Tue. Jan. 10 - 8:00 pm
CFP NATIONAL CHAMPIONSHIP GAME PRESENTED BY AT&T
#2 Clemson vs. #1 Alabama
A very exciting game.
Alabama did start strong, leading 14-0, created turnovers, but no scores out of it, and Clemson did score a TD to stay in touch and both teams did split into the half with that score, 14-7.
Clemson started the second half with another turnover in their first drive and Alabama was able to score a FG on the next drive.
But Clemson did not despair and moved the ball, did score a TD, Alabama answered a bit later and Clemson scored right after that to set up the 4th quarter.
Both teams did Punt a lot in their next drives, score still 24-21 Alabama.
Then did Clemson score, Alabama answered right after that and Clemson had suddenly the final drive.
And they did spend all the time available to finish a long drive with a game winning TD to claim the victory.
BAng, the unbeaten Alabama was beaten.
Why?
My personal view here is, that on offense the team did not convert as before.
Whether this is based on the Kiffin release or on a great Clemson preparation is hard to tell, but my feeling here is, that it's not a good idea to change the coordinator before the final game.
On defense was the Alabama defense also not that stingy as before and got beaten by a lot of pick-plays.
They did look very often very offensively designed that way and I was sometimes surprised not to see flags thrown, but the game is over and the calls do stand as they are.
Congratulation to Clemson for winning the National Championship!
Clemson 35 - Alabama 31 -> Jacks BOWL Score: 24-17

Thanks for reading my blog the season long.
I'm happy that it's over for now, but the next season will come for sure.

'Til next time
Jack6 on BLOCK OF GRANITE
Tags: Block of Granite, News
Tweet