RedZoneAction.org Blog
Available tags:
Block of Granite (0/346)

,
Coaches Corner (0/2)

,
Howtos (0/10)

,
Inside Deventer Devils (0/28)

,
Jack6s RZA Guide (0/21)

,
News (0/576)

,
Rumours (0/0)

,
Stories (0/4)

,
Top25 Rankings (0/22)

2022-02-19 09:58
Here we go everybody, the knockout rounds start and the drama follow! Beside one game, all the quarter finals could have gone either ways in Q4. Let's have a look on what happened.

AUT-Green Mark Packers 17:13 ITA-Raven Loonies

The World Cup champions for Austria continue to impress after taking the best from Nederlands in the group phase. In a very close game, they overcame a 6 points deficit against Italy to take the lead with 8 minutes left. Then they manage to make Italy turnover the ball on downs, missed the FG which would have killed the game but save their lead with a crazy interception on their goaline with only 5 seconds left to play. Amazing!

TUR-Istanbul Whitings 7:17 CAN-TigerCats

Another tight game with a low score, but unlike the previous one, Canada showed control when it matters against Turkey. Once they took the lead with 2 minutes left in Q3, we had a defense game with only punts and a missed FG for Turkey. Canada then sealed the game thanks to their second TD with 2 minutes left and it was not enough time for a Turkish comeback.

GER-Salt City Pirates 29:7 SER-Dumbarajko Elephants

If Serbia was still in the game at halftime (19-7) against Germany, an empty box score in Q3 and Q4 made this game one way only.

FRA-The Alpin Ducks 17:35 USA-San Diego Blitz

The game between the ELO #1 (USA) and the ELO #2 (FRA) was quite pleasant. Entering Q4, France was leading by 4 and could hope for the win. But nothing went right and USA scored on their first drive, posted 4 sacks (out of 10 in the game), added 2 more TD including 1 after a turnover on downs deep in France's territory. 0-21 in Q4 and an impressive win at the end for USA.

Let's now have a look on the ranking table, with spots 5 to 16 being final.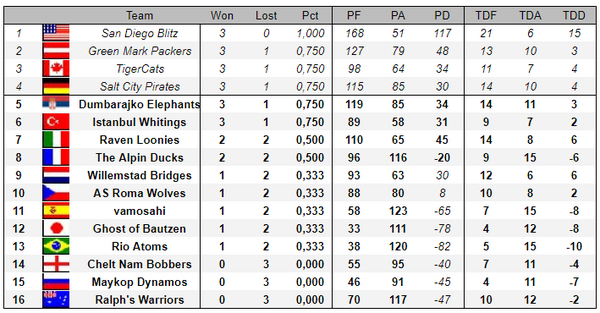 Tomorrow will be the semi-finals with a remake of last World Cup final and a North American duel!





Kanar
Tags: News