RedZoneAction.org Blog
Available tags:
Block of Granite (0/338)

,
Coaches Corner (0/2)

,
Howtos (0/10)

,
Inside Deventer Devils (0/28)

,
Jack6s RZA Guide (0/21)

,
News (0/565)

,
Rumours (0/0)

,
Stories (0/4)

,
Top25 Rankings (0/22)

2022-11-20 20:12
I will go on a mini vacation in this week, so I have to write this earlier.
On time of posting the playoff rankings won't be the updated ones, but that won't be essential, since the deciding ones will be after the conference championship games.

The upcoming week is the last regular season game, traditionally is it rivalry week.
Most of those games are just team vs team, irrelevant for conference standings, for playoff spots, just traditional games, played sometimes for more than 100 years regularly.

But let's start with the reviews first. There were some surprising games last weekend.

The BLOCK OF GRANITE TOP GAMES FOR WEEK 12

Sat. Nov 19
#4 TCU @ Baylor
That was a great game, if you are TCU fan.
The game was tied at halftime and in the 3rd quarter did TCU get the upper hand, but lead only by 6, thanks to a miss PAT.
Baylor then scored on the next drive into the 4th quarter also a TD and took the lead.
And then, it looked like TCU made a big mistake, they fumbled the ball and Baylor scored another TD on the next drive, now leading by 8.
But TCU did hang on and was able to score, tried a 2-point-conversion and failed, trailing by 2 now.
Baylor was held to 3-and-ot and then TCU had 1:30 left to win the game.
With 22 ticks left and without a timeout Baylor was on 3rd and 7 on Baylors 26-yard line and TCU did run!
The runner was stopped the time was ticking and TCU managed to get the field goal unit on the field, snapped the ball, kicked and won the game in 17 second.
Great display of discipline!
TCU stays undefeated.
#4 TCU 29 @ Baylor 28 -> Jacks TOP GAMES Score: 21-10

#7 USC @ #16 UCLA
Another great game, and USC did prevail.
The game went back and forth, high scoring.
UCLA led by 1 point at the half, right after the start of the 4th did US lead by 10 points.
But UCLA came back and scored, unable to prevent USC from scoring and scored again.
Now they trailed by 3 and they stopped USC.
The stage was set for a comeback, 2:15 left to play.
UCLA made several 1st downs, but around mid-field, USC did intercept the ball and the game was basically over.
USC did by that secure a spot in the PAC 12 Championship game.
UCLA is out of competition for the 2nd spot.
#7 USC 48 @ #16 UCLA 45 -> Jacks TOP GAMES Score: 22-10

#10 Utah @ #12 Oregon
This game would have made be mad, if I would have watched this live.
So many errors, so many turnovers, so few points.
Utah had 3 INT, Oregon had 1 INT and 3 fumbles, of those 2 lost.
Oregon did lead 17-3 at the half but did almost lose the game in the 2nd half.
They scored only 3 points in the 2nd half and only their strong defense did prevent a Utah comeback.
Oregon is now in good position to get the 2nd championship game spot, but it's not secured yet.
Utah is out of contention by the loss.
#10 Utah 17 @ #12 Oregon 20 -> Jacks TOP GAMES Score: 23-10

Other interesting games:

Sat. Nov 19
#15 Kansas State @ West Virginia
Well, Kansas State DID destroy West Virginia, even the Mountaineers did not give up, but were too weak to get the comeback going.
At the end did the Wildcats win 48-31 and are in prime position for the 2nd BIG 12 Championship game spot.
But next week is still important.
Jacks interesting games Score: 22-14

Iowa @ Minnesota
Very close game, very low scoring.
An interception thrown by Minnesota did help Iowa to score the game winning field goal for the 13-10 win.
The defenses were just too strong to let much happen in this game.
Iowa is now still in the mix for the division title, while Minnesota is basically out of contention.
Jacks interesting games Score: 22-15

#1 Georgia @ Kentucky
An ugly game, low scoring and for me at least boring.
Georgia did score field goals until they led 9-0.
Then they scored a TD for a 16-0 lead and Kentucky, when they finally score a TD on their own, had to used everything they could, but the defense of the Bulldogs were too strong.
So at the end did Georgia win 16-6 and the game had a lot of errors and turnovers.
Well, Georgia is still primed for the playoffs and will play LSU for the SEC, Kentucky lost some steam and will try to get their 7th win next week.
Jacks interesting games Score: 23-15

Other scores:
Bowling Green won against Toledo 42-35 and stayed by that in the hunt for the division title. Toledo is already set for the title game.
Michigan did almost lose to Illinois but won with a last second field goal 19-17. Michigan did stay perfect by that, and Illinois is out of contention in their division.
The most surprising win this weekend is the win by South Carolina against highly ranked Tennessee, 63-38. That does end the talk about Tennessee in the playoffs I think and makes the game between SC and Clemson next week quite interesting.
Georgia Tech had a great day and was able to upset championship game bound North Carolina 21-17. No big effect inside the conference, but UNC is for sure out of the playoffs.
Next upset, Arkansas was able to beat highly ranked Ole Miss, 42-27. A big win for Arkansas.
Navy did upset UCF, 17-14 and by that put them in bad position, but UCF still has a chance to get into the championship game.
And Oklahoma was able to beat the rival Oklahoma State in the Bedlam Series 28-13. Oklahoma became by that bowl-eligible.
Louisville did beat ranked NC State 25-10. No consequences inside the division.
Just 1 week after the 1st win against an SEC team since many many games did Vanderbilt beat Florida 31-24. Vanderbilt needs 1 more win for a bowl-spot, but that last game is against Tennessee.

That's that for week 12.

Let's have a look at the playoff contenders.

For the rules on the list, please look at the blog entry for week 5-7.

I did mark the week 4 TOP 10 teams with a '*'.

As mentioned, this week I'm not able to u p d a t e the ranking numbers, but I think we can live with that for a week.

CONTENDERS
#1 (AP) * Georgia Bulldogs - SEC (11-0, won against Kentucky, next week against Georgia Tech at home)
#2 (AP) * Ohio State Buckeyes - BIG10 (11-0, won against Maryland, next week against Michigan at home)
#3 (AP) * Michigan Wolverines - BIG10 (11-0, won against Illinois, next week against Ohio State on the road)
#4 (AP) TCU Horned Frogs - BIG 12 (11-0, won against Baylor, next week against Iowa State at home)
#5 (AP) * USC Trojans - PAC12 (10-1, won against UCLA, next week against Notre Dame at home)
#7 (AP) * Clemson Tigers - ACC (10-1, won against Miami, next week against South Carolina at home)

HOPEFULL
NONE

ELIMINATED this week
North Carolina Tar Heels - ACC (9-2, lost against Georgia Tech, now a 2-loss-team)
Tennessee Volunteers - SEC (9-2, lost against South Carolina, now a 2-loss-team)

So, Ohio State - Michigan will sort the things out, at least for the winner. The loser can even hope for a sneak in.
Especially if the list does shrink even further.
All those teams still have to win their conferences, of they lose those games, the playoff seating will become a bit chaotic, depended on how many lose and which teams do prevail and which teams are then left with 1 crucial loss or 2 losses.

Now to the conferences, for the rules of tracking see blog entry of week 9.

THE AMERICAN
Cincinnati 6-1
Tulane 6–1
UCF 5–2
Houston 5-2

The winner of Cincinnati - Tulane will get 1 spot and then it's open, who gets the 2nd. UCF has a quite easy game and could sneak in, since they own the compare against Tulane AND Cincinnati.

ACC
Clemson vs North Carolina

BIG10
East
Michigan 8-0
Ohio State 8-0

THE GAME will decide the division title. Period.

West
Purdue 5-3
Iowa 5-3
Illinois 4-4
Minnesota 4-4
Wisconsin 4-4

Realistically it's Purdue or Iowa. Since Purdue has an easier game, likely they will get the division, but still a lot can happen.

BIG 12
TCU 8-0
Kansas State 6-2
Texas 5-3

If Kansas State wins the rivalry game against Kansas, they are in the Championship game. If they lose and Texas win against Baylor, Texas is in.

CUSA
UTSA 7-0
North Texas 5-2
Western Kentucky 5-2
Florida Atlantic 4-3

UTSA is now set, the rest ist open. WKU will play FAU and UNT will play Rice. If UNT wins, they are in the 2nd spot.

MAC
East
Ohio 6-1
Bowling Green 5-2
Buffalo 4-2

Ohio will play Bowling Green next week. Likely that will decide the division. Buffalo has postponed the game against Akron, not sure when or if they will play it and whether it does have an effect.

West
Toledo 5-1

Toledo is set for the MAC Championship game.

MWC
Boise State vs Fresno State

Boise won against Wyoming and sealed the division by that. Fresno won against Nevada and sealed it by that.

PAC 12
USC 8-1
Oregon 7-1
Washington 6-2
Utah 6-2

USC is set, but if Oregon loses against Oregon State it becomes interesting. Washington has the direct compare to Oregon, Oregon to Utah.

SEC
Georgia vs LSU

SUN BELT
East
Coastal Carolina 6-1

Coastal Carolina is set for the Sun Belt Championship game.

West
Troy 6-1
South Alabama 6-1

Troy is not set yet, but has the direct compare to South Alabama. But if Troy loses to Arkansas State, South Alabama could sneak in.

Let's face it, there is not much to determine for good this week, beside pride and strength.
Open conferences spots are to be filled in the American, the BIG 10, the 2nd spot inside the BIG 12, the 2nd spot in the CUSA, the East division of the MAC, the 2nd spot of the PAC 12 and the West division of the Sun Belt.

The BLOCK OF GRANITE TOP GAMES FOR WEEK 13
Sat. Nov 26
#3 Michigan @ #2 Ohio State
So far 117 meetings in this rivalry and so far, Michigan leads, 59–51–6.
Last season did Michigan win THE GAME after losing the rivalry game since 2012, 8 in a row, which is 1 short of a record 9 games in a row won by Michigan 1901 to 1909.
Now the 2 teams do meet under the circumstances that they are very high ranked each and the winner will play for the BIG 10 Championship and has a very good position to enter the playoffs, the loser is likely done for the playoffs (with a small chance not to be done), but will likely play in a new years bowl.
This is played in Columbus, so the homefield advantage is this year on the Buckeyes.
Except the close Maryland game (34-27) and last weeks game against Illinois (19-17) did Michigan win all games in quite convincing, most of the time dominant, manner.
Same is true, maybe even a bit more dominant, for Ohio State, who did look only a bit beatable when they won only 21-7 at Northwestern. The Wildcats do play a very bad season, so why Ohio State had so many problems scoring against them is an enigma. And last week against Maryland was also quite narrow, 43-30.
Long story short, the 2 teams are primed to battle it out in an epic, likely close, game.
Vegas has Ohio State ahead by 8.5 points.
I'm willing to give Ohio State my pick also, because of the homefield and a slightly better performance on the field and the very bad performance of Michigan last week, including the loss of their star-RB.
With the history of the teams and the rivalry, this is open.
No score would really surprise me, except a VERY dominant win this season by any team.
Buckeyes win.

#12 Oregon @ #23 Oregon State
The formerly known CIVIL WAR (the universities did lay down the naming, because of the connections to the American Civil War in 2020) was for seasons a very clear and rather boring game.
Since 2008 did Oregon win the Platypus Trophy every year, 8 in a row, until 2016 Oregon State did upset the Ducks.
2017, 2018 and 2019 did again Oregon win the Trophy, but 2020 did Oregon State win again.
Oregon did win last year and did extent the series lead to 67-48-10 in 125 meeting.
The last time Oregon was ranked in this game was 2012, the last time Oregon State did win as ranked team was 2000.
This season this game does have a major impact on the final standing of the PAC 12 and whether Oregon enters the Conference Championship game.
Played in Corvallis, the Beavers do have a slightly home field advantage.
Oregon has proven, that they can win here, but as said, in 2020 they lost and there was also a time, always the home team won.
This is not done yet and the Beavers seems to have found some teeth.
The betting line is Oregon -3.5 points.
I'm torn between the logic that Oregon has shown much more strength than Oregon State this season and the fact that Oregon lost against seemingly weaker teams and that Oregon State at home did win all games, except against USC, where they lost by 3 points.
I expect a close and high scoring game.
Beavers win.

#18 Notre Dame @ #7 USC
We have 92 meetings so far between those 2 teams and Notre Dame leads, 48–36–5, with 3 additional games vacated 2005 by USC, won by USC and 2012 and 2013 by Notre Dame, won by Notre Dame.
This year USC playoff hopes are linked to the game.
If USC wins, they can hope to play in the playoffs (if they win the PAC 12), if they lose, the playoff hopes are gone.
Notre Dame can only get a better bowl spot by winning and of course they can keep the trophy, the Jeweled Shillelagh, which they have since 2017, winning 4 in a row (with 2020 no match).
USC has now a new HC and he did bring USC back on track, the team is playing much better than in recent years.
USC is favored by 5.5 points.
This is played in LA, a big advantage, even Notre Dame won the last game in LA.
If Notre Dame is in good shape, this can become a great match, but if they show up like they did against Stanford (lost) or against Navy (won), they will likely lose here and not even in a close game.
USC did show now sign of slowing down at home, the closest game was against Cal, which they won by 6.
I'm pick USC here, since Notre Dame might be on track to become a force again (which I only believe when they win the National Championship) but this season they are inconsistent.
Trojans win.

Other interesting games:

Tues. Nov 22
Bowling Green @ Ohio
No rivalry here, just the deciding game between the 2 teams. The winner takes the division and will play against Toledo, the loser can concentrate on a bowl.
Ohio did play better than I expected, as did Bowling Green.
The Bobcats have won 6 in a row and never lost at home.
The Falcons did win and lose regularly, surprisingly they seem to be a force on the road.
Could be a close game, could be that Ohio does dominate.
Vegas say Ohio -7.5 points.
I say, Ohio will win at home.
Bobcats win.

Fri. Nov 25
#21 Tulane @ #25 Cincinnati
A deciding match inside the American.
Both teams have a chance to get into the Championship game, but only the winner will take the spot.
The betting line is Cincinnati -3.5 points, which is not much.
Tulane did look unstoppable, until they started to lose.
Now this looks like a clear win for Cincinnati.
Bearcats win.

Nebraska @ Iowa
The Heroes Trophy is awarded to the winner.
In 52 games Nebraska leads, 29–20–3, but Iowa drives a 7-game winning streak since 2015.
Iowa needs the win, Nebraska is the guest and under interims management, after seasons with bad results.
The only plus for them is that Iowa lacks some offense power, but likely they have enough to win this. Iowa is favored by 9.0 points.
Hawkeyes win.

Sat. Nov 26
Kansas @ #15 Kansas State
With 119 meetings, this is one of the longest running football rivalries in the US.
Kansas leads the series 64–50–5, but is losing ground fast, since Kansas State is driving a record 13 games winning streak.
Since 2009 has Kansas not winning this game, which fits with the decay of Kansas Football since then.
But there is hope, at least a bit, since Kansas is playing the best football since 13 years, has won so far 6 games and is bowl eligible the first time since 2008, the last time this rivalry game was won by the Jayhawks.
Unfortune for Kansas is, that Kansas State is playing their best football since, well that judgement is still open, but for sure they play very well, winning so far 8 games and being the top team to gain the 2nd spot in the BIG 12 Championship game.
For Kansas this is pride, for Kansas State it's that and on top the chance to win the conference.
So no wonder they are favored at home by 12.0 points.
I hope for a big clash, worth a rivalry and I hope Kansas State win this, since I like small programs and KSU is one, compared to the Basketball juggernaut Kansas.
So ...
Kansas State win.

#17 Washington @ Washington State
The Apple Cup is due for the 114th meeting and Washington leads the series 74–33–6.
The Huskies have won a record 8 games in a row twice in the past, but Washington State did prevent by their win last year, that the latest streak would have gone to 8 also.
This season the Huskies have only lost 2 games so far and the Cougars 4.
The teams are quite close, but Washington has the chance to get into the PAC 12 Championship game. If Washington wins and Oregon loses, the Huskies have the direct compare.
But even this is only a slim chance the main focus will very likely be the rivalry itself.
Played in Pullman, the Cougars are still the underdog by 2.5 points.
They lost all games against the better teams from the PAC 12, so this is reasonable.
But don't underestimate the rivalry.
My gut feeling is, the game will be close and at the end, the Cougars can win it.
Whether they do, is open, it will depend on the Huskies defense.
But I think, the Cougars WILL win here.
Cougars win.

Minnesota @ Wisconsin
The Trophy is Paul Bunyan's Axe and the rivalry between both universities had so far 131 meetings.
It's the most played rivalry in FBS, only a few rivalries do run longer, all on FCS level.
The series is almost tied, 62–61–8 in favor of Wisconsin.
Minnesota won last year.
This season this game has only little, if any, impact on the division title race.
Minnesota has the chance to win the division, if the win and if they have some luck.
But overall, the programs do play this not for division titles or more, it's pure pride and display of strength.
Played in Madison, this will be tough for the Gophers to win.
Wisconsin is favored by 3.0 points.
I think the Badgers will do their best here and will regain the trophy.
As said, the series is very narrow and this year the 2 teams are also very close.
Likely decided by less than a score, I think Wisconsin will prevail by playing hard for the last most important game of the season.
Badgers win.

That's it for the upcoming weekend.

'Til next time
Jack6 on BLOCK OF GRANITE
Tags: Block of Granite
2022-11-20 17:36
Hello RZA Community and greetings from Sidney, the Sunrise City of Montana!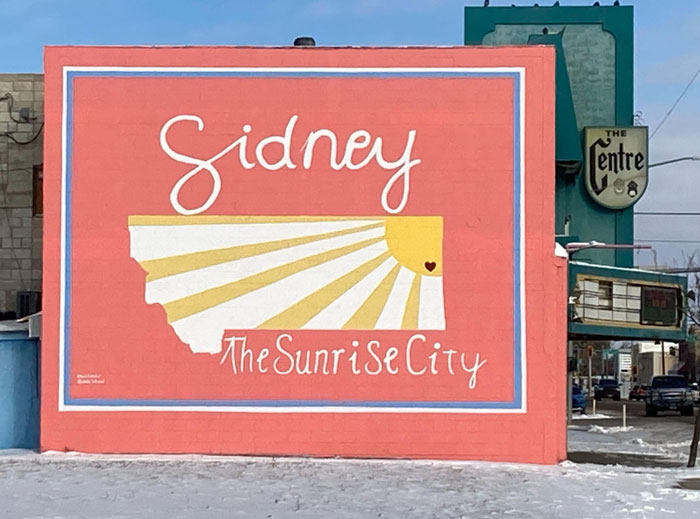 A big thank you to Pete for creating this game and keeping it running for so long. And also to go through all of the trouble and expenses to furnish an actual trophy! We have a great game administrator. And this just isn't a trophy, it's also a chalice!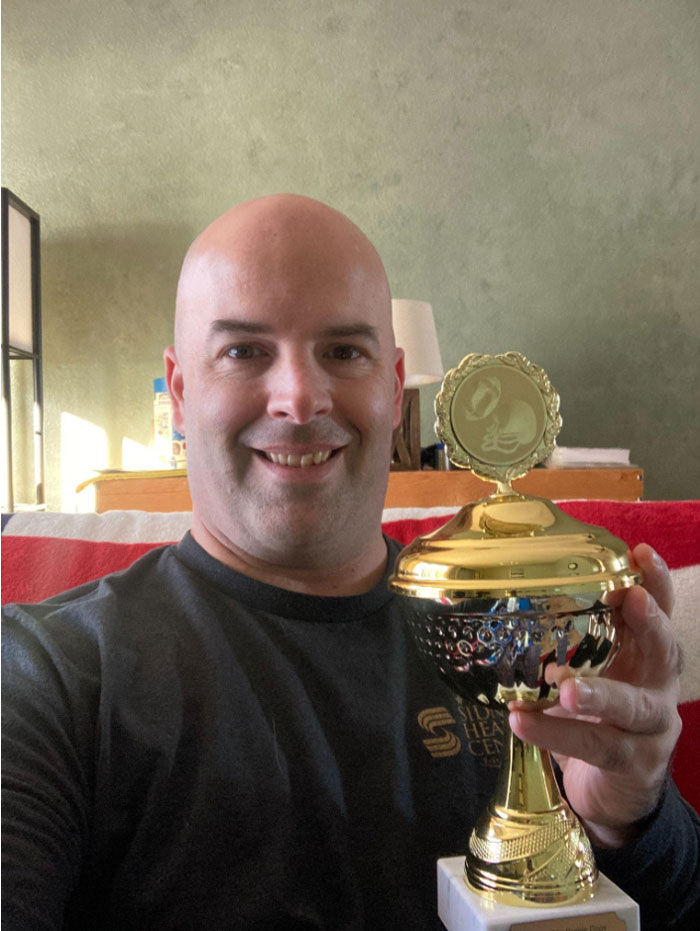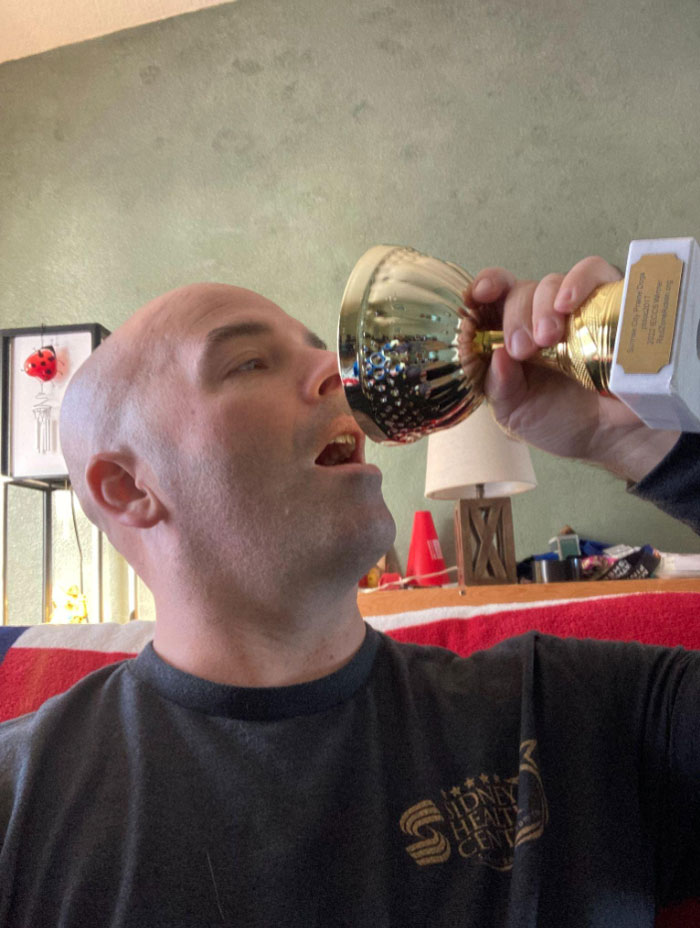 Beyond the prizes for winning, the IECC 5 was a fun and challenging tournament. I think I had a bit of an advantage as my region currently lacks human players giving me more time to focus on putting my best game plans forward. That included creating a special research center to prepare for the championship game against Rufio's Space Kraken.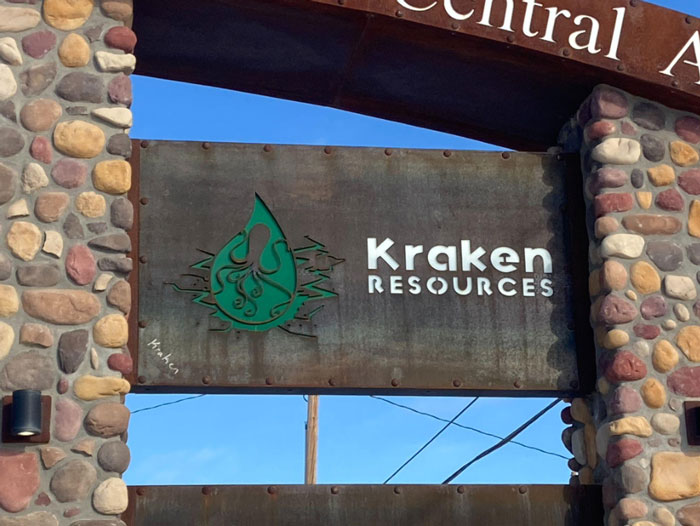 Unlike past winners of this tournament, all of whom hail from larger metropolises, Sidney is a very tiny, isolated farming/ranching/oil boom city on the Montana/North Dakota border (hence the nickname, Sunrise City, as this is the most eastern city in the state). While not truly my home town (I was born in northern Kentucky, about 20 hours away from my new home), it's where I've been for nearly the past two years, so I thought I'd share about my current home town. This is a city of only about 6,000 people, and you would have to drive nearly an hour in any direction to get to the next comparable city. Separating the cities are miles of farms, ranches and badlands.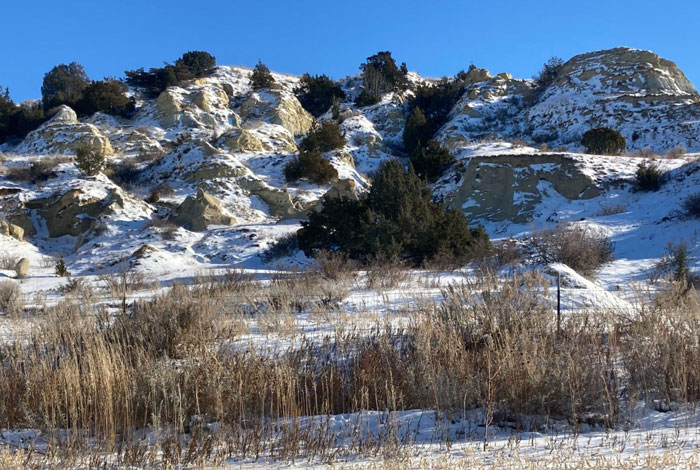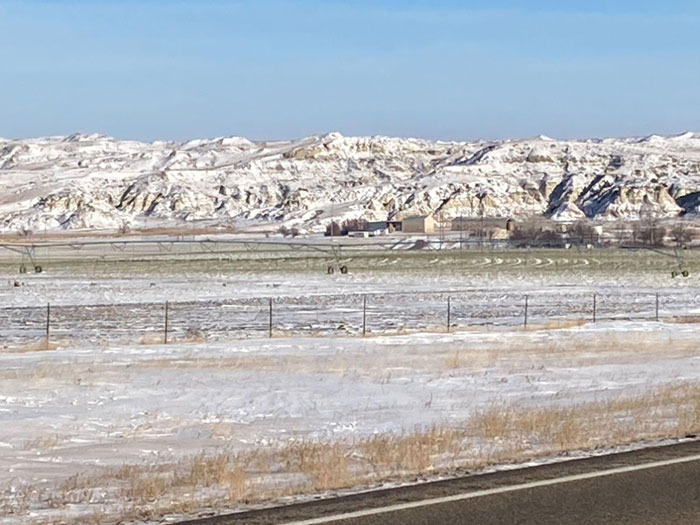 Photos and words don't do the landscape justice. You pretty much have to experience the badlands to appreciate them. The Montana Badlands (Makoshika State Park) and the North Dakota Badlands (Teddy Roosevelt National Park) are both less than an hour and a half away and hiking in either parks is among my favorite things to do out here. Hiking in Teddy Roosevelt, one can come across wild bison (I always do), antelope, elk, deer, coyotes, mountain lions (luckily I haven't experienced that), bald eagles, rattle snakes and, of course, prairie dogs.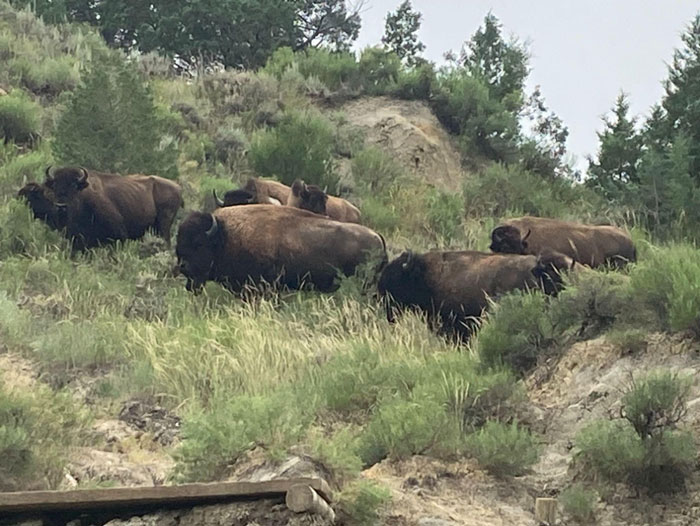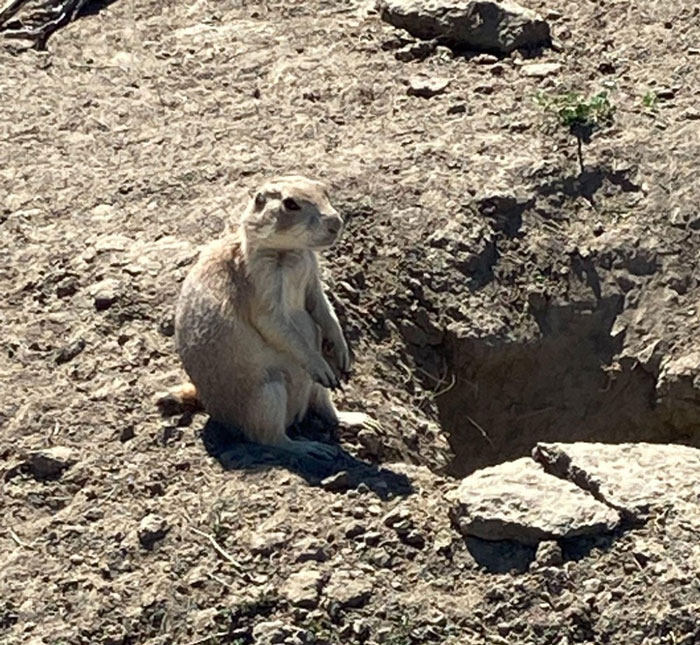 (I was hoping to get a picture of the trophy with a prairie dog, but the weather foiled those plans)
Sidney is nestled along the Yellowstone River, which means that the first non-Native Americans to come through were likely members of the Lewis and Clark expedition. Upon returning from the Pacific Ocean, Lewis took a portion of the team back along the Missouri River while Clark took the rest down the Yellowstone to further explore the region. It's a shallow river so it freezes over for most of winter.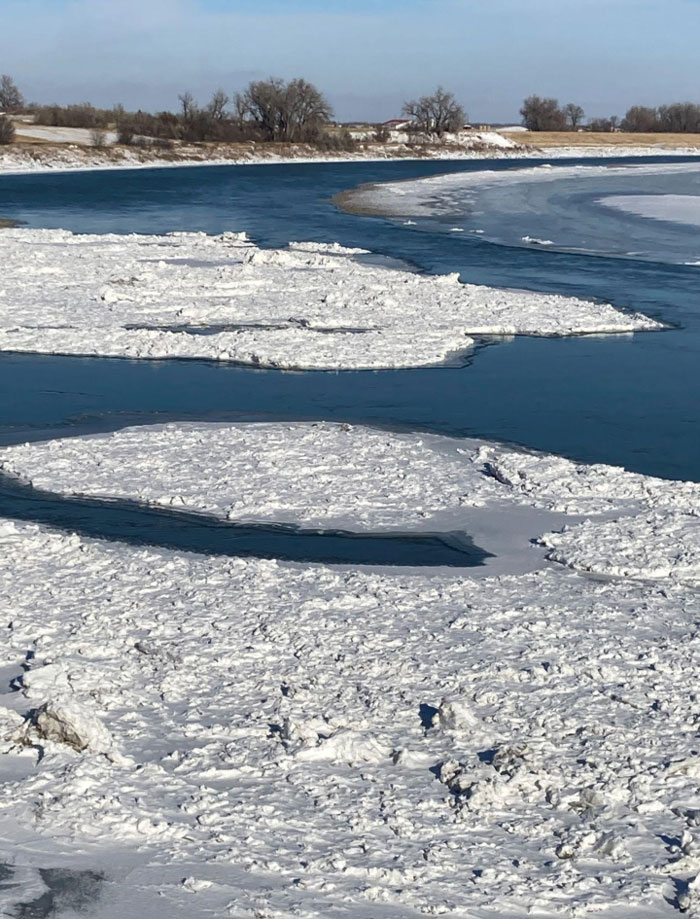 Because of our very dry climate, the Yellowstone and the canal are the primary sources of water for the farmers. While you'll see a variety of crops, the chief cash crop is sugar beets. The harvested beets are then processed into sugar at the local factory. This train engine (already decorated for Christmas) sits in Veteran Park as a remnant of the Holly Sugar Company, which is now Sidney Sugars Inc.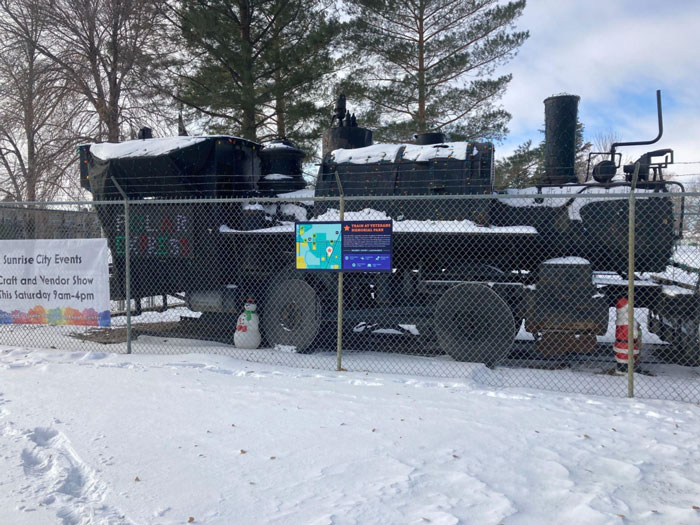 The largest employer in the city is our hospital, Sidney Health Center. We're a very small facility having only 16 hospital beds and three intensive care unit beds. We also have an airplane to fly to hospitals in the region if we aren't able to meet someone's emergent needs.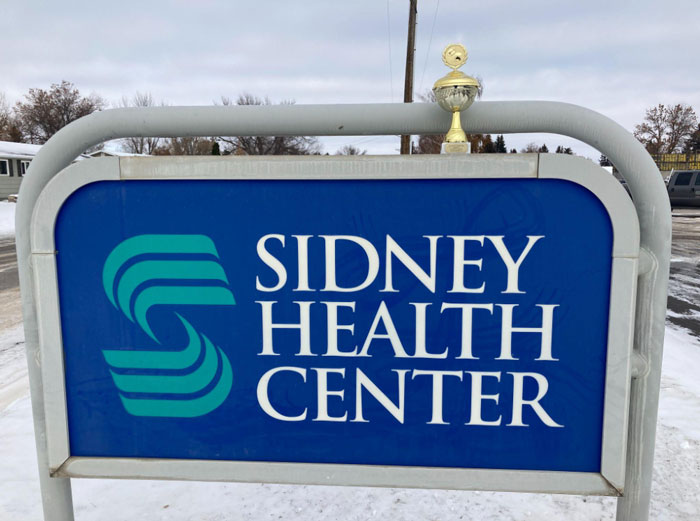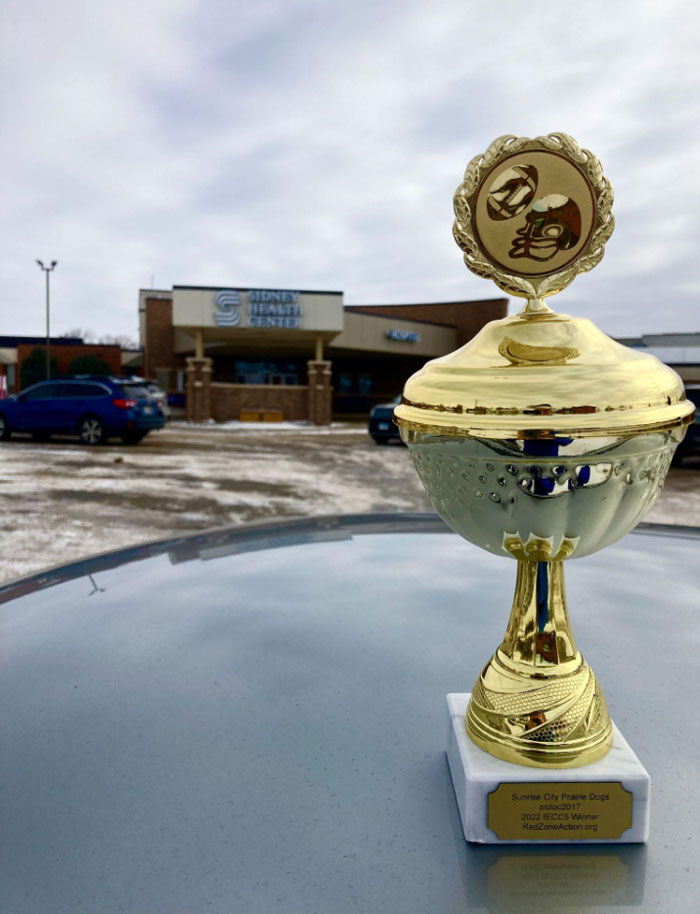 I figure the best way to wrap this up is to share the final resting place of the trophy and one of our famous sunrises.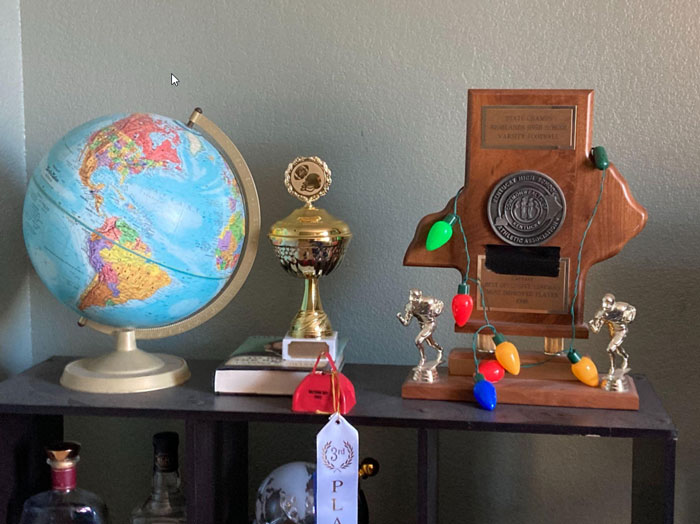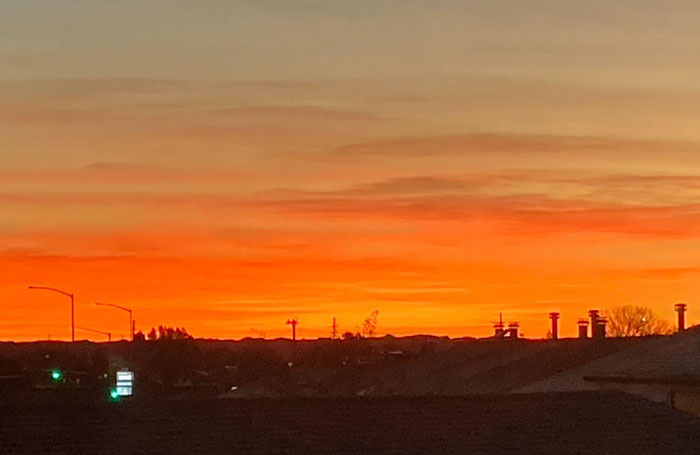 Thank you very much for sharing some impressions and thoughts with us, much appreciated!

Pete, in the name of RZA and its community
Tags: News