RedZoneAction.org Blog
Available tags:
Block of Granite (0/305)

,
Coaches Corner (0/2)

,
Howtos (0/10)

,
Inside Deventer Devils (0/26)

,
Jack6s RZA Guide (0/21)

,
News (0/521)

,
Rumours (0/0)

,
Stories (0/4)

,
Top25 Rankings (0/22)

2021-05-11 15:17
The following statement has been released by the Deventer Devils:

Following the take-over of the majority stake in the club, and with that effectively taking over the day-to-day running of the club, the new management has held an emergency review of the current operations. We found that the team spirit within the club had been afflicted with a complacency that was fueled by people (players and staff alike) not being held accountable. As a result of aforementioned review, we therefore make the following announcements:

1. QB Albert Jacobs has been removed as a starter and has been put on the trade block. Any interested parties should visit our Front Office to indicate interest. We thank Albert for his hard work while being under center for this club but he has recognised as well that a move to a different club is in the best interest of all parties involved.

2. Following a review of the players at the disposal of coach Muriki we found 15 players unfit to play for the club and well below the baseline that we expect of a starter. These have been or will be transfer listed and will be fired (with ample compensation of course) if a buyer cannot be found.

3. A transfer funds of $50 million has been made available to GM and Coach Muriki with immediate effect. In order to make the squad competitive Muriki has identied we need to bring the following players in:
1 (backup) QB
2 TE
1 Punter
1 Kicker
2 CB
2 DL
3 OL
1 MLB
1 OLB

Our scouts have given their asssignments and we expect to get these players in over the coming weeks. signings in

4. All positonal coaches except SF coach Gustavo Mendoza have been fired with immediate effect as we deemed them not good enough to be working for a club as ambitious as the Deventer Devils are.

5. We will be looking to hire new coaches but will wait for the right fit before hiring. We do however have been able to find a new OL coach who will join the club tomorrow.

We felt that this was needed to send a signal to everyone in the club that mediocrity is not longer accepted and that we are in the business of winning and getting promoted as soon as we can.
Tags: Inside Deventer Devils
2021-05-06 21:15
TAKE OVER ANNOUNCED
Today the Deventer Devils have announced that Ronald Vennegoor has sold a 51% stake of the club to Sheik Sulaiman. The Sheik is the father of current Devils' ILB Suleiman Sulaiman. This means that Ronald Vennegoor has relinquished his majority stake in the club and with it the director role that comes with that. This means that with immediate effect Sheik Sulaiman will take up the Director of Football role. Mr Vennegoor will become part of the back office team and will solely focus on the commercial side of the club. His responsibilities will include the management of the stadium, dealing with sponsors and TV deals. Coach Muriki meanwhile will extend his current role as head coach to also include the role as General Manager as well.

GROUNDBREAKING STRATEGIC MEDIA DEAL
On the subject of commercial strategy, the club has right away an exciting announcement to make: the Deventer Devils have struck a strategic deal with Oman based Al Amunis Broadcasting Corperation. The club sees the Middle East as an promising new market where there is great untapped potential regarding american football. Commercial Manager Ronald Vennegoor: "The Middle East is not a region people normally associate with american football but people said that about Europe only 15 years ago. We feel that with an Omani player in our squad (LB Suleiman Sulaiman) we are well positioned to take advantage of the exposure the Deventer Devils will have now in the Middle East. It is our goal to have 25% of our commercial income to come from the Middle East in 5 years. Of course we will reinvest some of that money to provide grass roots infrastructure for an amateur and college-level football league in that region. The ultimate goal will be to have a growing talent pool of which to pick players from.

NEW LOGO REVEALED
Of course with a new group of potential supporters from a different cultural background in mind, the club has also decided to launch a new logo. It was felt the old logo was too graphic and aggressive. The new logo still retains the Devils aspect of the club whilst also taking into account a different group of our fan base. We are therefore proud to announce that we are the first club to have Arabic writing on our logo. The arabic characters spell the word Devil. Although we acknowledge that some part of our current fan base might be apprehensive about this new logo, we strongly feel that this unites all the best parts of two cultures that together will drive the Deventer Devils to new heights!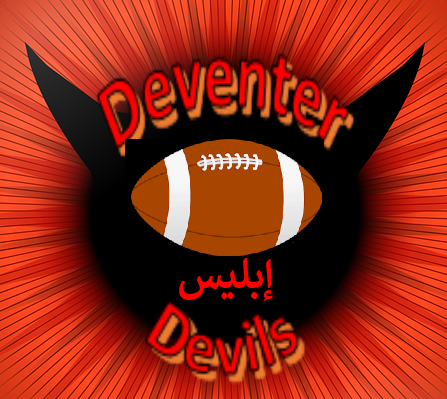 Source: https://redzoneaction.org/football/images/media/2483cf3dc0cdb1e44a59b4ff78f895ce.png

Tags: Inside Deventer Devils