RedZoneAction.org Blog, tagged with News
Available tags:
Block of Granite (1

/340)

,
Coaches Corner (0/2)

,
Howtos (0/10)

,
Inside Deventer Devils (0/28)

,
Jack6s RZA Guide (0/21)

, News (
1

/566)

,
Rumours (0/0)

,
Stories (0/4)

,
Top25 Rankings (0/22)

2022-12-07 07:57
And we are almost done and had some surprised even on the last gameday.

Let's start with the review, since those Championship games were basically the (almost) whole gameday.

The BLOCK OF GRANITE TOP GAMES FOR WEEK 14

Fri. Dec 2
Pac-12 Football Championship Game presented by 76
#11 Utah vs #4 USC
This started off the Championship games (with the CUSA game also) on Friday and I did say I would not be surprised by any name, but at the end I was surprised on the score.
Until halftime this was an open game, Utah did trail a bit, but when the 2 teams did split, the game was tied at 17.
Then came the 3rd quarter, in which Utah did score a TD and USC did not score at all.
But only 7 points behind, right?
Well, with the last drive in the 3rd quarter did Utah march over the field and capped the drive with a field goal on the 1st play in the 4th quarter.
Still, only 10 behind, USC can do it, right?
Well, they scored a TD, but were unable to prevent the answering score by Utah and then USC did throw the ball away for an INT.
Utah scored on the ensuing drive and USC did ... fumble the ball away.
Utah did score again, and the game was over, even the Trojans did try to do something in the last 2 minutes.
The Utes defended their Championship title in a big way and the Trojans lost a big chance, since they dropped out of the playoff TOP 4 ranks.
#11 Utah 47 vs #4 USC 24 -> Jacks TOP GAMES Score: 25-12

Sat. Dec 3
Dr Pepper Big 12 Championship Game
#10 Kansas State vs #3 TCU
Most parts of this games 1st half I did watch but had to skip afterwards.
I did see 2 aggressively playing teams, but TCU did lack the willing to find the targets.
Kansas State did lead 14-10 at the half, thanks to their own faults. The lead could have been higher.
The 3rd qaurter was again filled with missed opportunities by Kansas State, the did force a fumble, but were unable to convert anything out of it on the next drive.
Later they forced an INT and then they scored a TD to have a comfortable lead.
But then TCU got back into the game and with less than 2 minutes to play the games was suddenly tied.
Kansas State got the ball but was unable to do something and the game went to OT.
TCU got the ball and came to the Kansas State 1 yard line.
But the KSU defense did stuff the 2 running tried (the last was 4th down) shorter the goalline and kept the Horned Frogs scoreless!
Kansas could have just kicked a field goal (if they make it) and win, but did try to advance the ball to make the kick easier.
And they did make some yards and at the end, they won the BIG 12 Championship with a 31 yarder.
TCU at that moment down, they could have dropped out of the TOP 4 playoff ranks on top, but thanks to the USC loss and any alternatives, TCU did keep their spot as 1-loss-team.
#10 Kansas State 31 vs #3 TCU 28 (OT) -> Jacks TOP GAMES Score: 25-13

SEC Championship Game
#14 LSU vs #1 Georgia
This went basically almost as expected.
LSU had shown some spirit and DID beat Alabama, but they did also lose some crucial games, so I expected a well-managed win by Georgia.
I did not expect Georgia to lead 35-10 at the half.
LSU did show a bit in the 2nd half, but WAY too less to get that game turned around, especially because they were unable to prevent additional Georgia scores.
At the end did Georgia win convincingly by 20 points and is of course now as SEC Champ #1 in the playoff rankings.
#14 LSU 30 vs #1 Georgia 50 -> Jacks TOP GAMES Score: 26-13

Big Ten Football Championship Game
Purdue vs #2 Michigan
Until halftime some might have thought Purdue can stay in the game.
At one point they did even lead by 3.
But Michigan came out of the locker room and scored a TD, stuffed Purdue and scored again.
The 2nd score by just 2 plays.
And BOOM Purdue was behind by 15 points, did throw an INT afterwards and did score only field goals after that.
And they were unable to prevent 2 more Michigan TDs.
You don't need to be an expert to know that this is a bad combination.
Michigan won by a mile and is ranked as BIG 10 Champion at #2 in the playoffs.
Purdue 22 vs #2 Michigan 43 -> Jacks TOP GAMES Score: 27-13

Other interesting games:

Fri. Dec 2
Ryan Conference USA Football Championship Game
North Texas @ UTSA
A big 2nd quarter did lift UTSA to a comfortable lead and at the end did the Roadrunners win the CUSA (again) by a score of 48-27.
An unfortune side effect is, that North Texas did fire the HC afterwards, even he did finish inside the Championship game ... Hmmmm.
Jacks interesting games Score: 26-19

Sat. Dec 3
Rocket Mortgage MAC Championship
Toledo vs Ohio
Well, Ohio did let me down.
The game was close, no doubt, but as home team, I would expect more than playing catch up for most of the game.
A score by Toledo late in the game did seal the Championship for the Rockets with a score of 17-7.
Jacks interesting games Score: 26-20

American Athletic Conference Football Championship Game presented by RoofClaim.com
#22 UCF @ #18 Tulane
Tulane did play a good 1st half and a terrific 2nd half to win the American Conference with a great score of 45-28.
BIG win for Tulane and they will play in a BIG Bowl because of that also.
I'm happy for them.
Jacks interesting games Score: 27-20

Hercules Tires Sun Belt Football Championship
Coastal Carolina @ Troy
I would love to know how much the coach contract talks have an impact in the performance on the field.
Coastal Carolina did lose the game, later they lost their winning coach to Liberty.
But they already found a successor. Man, that was fast.
Troy did win the Sun Belt with a big game, 45-26.
Jacks interesting games Score: 28-20

Mountain West Conference Football Championship Game
Fresno State @ Boise State
Oh man, another disappointing result, this time Boise did suck at home.
Quite close, but low scoring, until the end of the 3rd quarter was Boise still playing catch up and did not look good.
Going into the 4th did Fresno State then score a TD and Boise tried to make things happen and did throw an INT afterwards.
The Bulldogs scored again and at the end won the Mountain West 28-16.
Jacks interesting games Score: 28-21

Subway ACC Championship Game
#9 Clemson Tigers vs #23 North Carolina
Funny how far loyalty does go.
The Clemson coach did say prior the game their starting QB will be the starter, after he had shown several bad games and the backup did play better, sometimes even did win on a comeback.
Well ... the starter DID start but did play only a few plays and then the backup came in and won the ACC-Championship game with a great performance, 39-10.
Maybe the team would still be in the playoff mix, if THAT decision would have been made a few weeks ago.
Better luck next time.
Now that former backup guy is set as starter for the bowl, which led the Junior former starter to announce his transfer willingness.
Not sure it will help him, but likely better than sit out the last season, since it is unlikely he will leapfrog the bowl-starter again and if he want to go to the NFL he needs tape material from his senior season.
Jacks interesting games Score: 29-21

Other scores:
There were only 2 other games on that day, New Mexico State had a game against Valparaiso (FCS) and won 65-3. That win does not count against the bowl eligibility, since NMSU did already win against a FCS team during the season, but the team got a waiver from the NCAA, because of the postponed game from San Jose State. And they got a bowl spot at the end.
The 2nd game was Buffalo winning against Akron 23-22, also a postponed a game, but here in original setup. Buffalo by that also at 6 wins, will play a bowl.

What's left is the Army-Navy game, this season also called the pillow fight in uniform, the one-gazillion-bowls and the college football playoffs, featuring the TOP 4 teams named by a committee to play for the National Championship.
We might see a change of format in 2024, but the ink is not on paper yet.

So, how did the playoff teams selection process work out (also known as let's play a season and then let some strange people decide who was best).

The TOP 4 teams on the final list are

#1 Georgia Bulldogs - SEC (13-0, won SEC Championship game)
#2 Michigan Wolverines - BIG10 (13-0, won BIG 10 Championship game)
#3 TCU Horned Frogs - BIG 12 (12-1, lost BIG 12 Championship game)
#4 Ohio State Buckeyes - BIG10 (11-1, had a BYE, did sneak in, since USC did lose and the next option below Ohio State would have been 2-loss-Alabama)

That leave the semi as
Georgia - Ohio State
Michigan - TCU

TCU is the only team which was not rated TOP 10 in week 4, which I said earlier in my blog is a 90%+ chance for the National Champion to emerge from.

Before I start the last preview, some additional coaching news.

Liberty did fill the void on the HC position with Coastal Carolinas Jamey Chadwell. He was 5 years at CCU (1 season as interims HC) and has a record of 39-22.
He won the conference 2020 and made it to the championship game this season.
In the past 3 seasons he was one of the coaches with most wins.

Coastal Carolina did not wait long and hired Tim Beck, a long-time coordinator veteran, serving as OC for many teams, last for NC State since 2020.

As said already did North Texas fire their HC Seth Littrell after 7 seasons, in which he has a record of 44-44, won the conference or got to the championship game twice (2017 and 2022) but failed to win the conference. He lost all bowl games the team was invited to. Sure, not THAT great as summery, still the team did improve over the past 2 seasons. Well, looks like it was not enough.

Florida Atlantic tried their next splash as HC, again hiring a 'failed' HC from power 5 schools, this time Tom Herman, former HC of Houston and Texas.
Not sure how he will perform, but my gut feeling is, he will turn out better than Taggart, his predecessor.

Texas State found their guy in G. J. Kinne, right now still the HC of a FCS program, Incarnate Word, who are right now in the quarterfinals of the FCS Championship playoffs.
He is quite young, 34, and did serve as Coordinator only for 2 seasons and has his 1st HC gig at Incarnate Word, with this season his 1st season, also.
So this could be a gold mine, or a bust.

Tulsa hired Kevin Wilson, the OC of Ohio State, as new HC. he is 60+ and a longtime coordinator and was also a HC once for Indiana for 6 seasons, with a record of 26-47. He had a strange leave there, signed a contract extension in 2015, but left 2016 because of different opinions on, well, something, as it seems. Since then, he was with Ohio State.

UNLV has hired Barry Odom, the Arkansas DC, as HC. He was a HC once, with Missouri, and had a record of 25-25. He was fired after the 2019 season, which was a rollercoaster season, starting with a loss having won 5 straight then, losing 5 straight afterwards and winning the last one (ironically against Arkansas).

A quite known name, but not from coaching, is UABs new HC, Trent Dilfer. The former Superbowl winning QB with the Ravens (who was released afterwards) did coach a high school /college preparatory school team the past 3 seasons. This season they won the state championship in Tennessee. Again, a bold move, since he has no experience in all the processes and so on, but you never know.

And Colorado did make also a splash in the coaching search, hiring former NFL defense standout and the past few seasons HC of Jackson State, Deion Sanders. Sanders won in the past 3 seasons 2 times the conference, 2021 and 2022, and his record is 27-5, not done yet, since the team will play in a FCS bowl also, going in this season undefeated.

In the shock wave of that came the news that Kent State does lose his HC Sean Lewis after 5 seasons to Colorado, where he will serve as OC. Now that's a BAD news for such schools, since it shows that coordinator jobs on some (well, many power 5 schools) become more interesting than being the main man at a small group of 5 school. This trend will likely continue, since the power 5 schools will get a lot of dollars in the future, while many smaller group of 5 schools will not increase their budgets in the same type of speed. Sean Lewis had limited success at Kent State with an overall record of 24-31, but did OK I think, since the school is not known for winning many games since a decade and Lewis did lift the win total at least to the bowl barrier, sometime a bit higher, sometimes lower, like this season.

But on the other hand, it is not all fine and shine for power 5 schools since Louisville lost THEIR HC Scott Satterfield to Cincinnati, where he will be the next HC. The Bearcats might be in a unique position here, since they are top of the class inside the American conference and will also BECOME a power 5 school next season. Still, Satterfield was in a good position, did win with the Cardinals (even not THAT much) and decided to leave. I was surprised, but if you put all stuff on the table, it's not THAT surprising.

And so long the last news is South Florida hiring Tennessee OC Alex Golesh, who severed the Vols the past 2 seasons as OC. He has now experience as HC, is still young, 38, but did see actions as position coach and OC on several schools.

So much for coaches changes until Tuesday.

That brings us to the last playable regular season game.

The BLOCK OF GRANITE TOP GAMES FOR WEEK 15

Sat. Dec 10
Navy @ Army
This season this is a quite even match, on a lower level.
Army has the lowest win total since 2019, where they had also 5, but this season (5-6 so far) they could actually get to 6, if they win here. That would still not be enough to become bowl eligible, since they had 2 wins against FCS teams, and they would have needed in this case 7 wins total minimum.
Navy is since 3 seasons on a bad trip, they had 2019 11 wins, but dropped to 3 in 2020 (COVID-19 season) and did not recover since, posting 4-8 in 2021 and 4-7 in 2022. A win in this game would help to show some progress, but still, no bowl this season for sure.
The Commander-In-Chief-Trophy? Already awarded to Air Force, since both teams here did lose to them, in close games.
So what's left then?
I guess it's pride and the usual marketing the troops stuff.
The series has so far 122 games and Navy leads, 62–53–7, including winning last year.
It's played this season on the home field of the Philadelphia Eagles, on neutral site.
Army is favored by 1.5 points and the community is basically split in half on the results, which did also reflect my thoughts at first.
Both teams did not really show good football the whole season.
Both teams did show inconsistence.
Navy for example did lose to a FCS team at season start and did almost beat Notre Dame late in the season and won a week later against American Championship game participant UCF, but 2 weeks before, against Cincinnati, they did lose.
Army did lose against a lot of weaker teams, like Georgia State, but won against the resurrected UConn (who won against Liberty and Fresno State for example).
Overall, it seems that Navy did lift their level of playing a bit towards the end of the season, even they are still inconsistent, while Army did lose all games against better teams, and won most of the time against pushovers.
So, I'm leaning a bit towards Navy to win the 2nd time in a row here.
The game will be pumped up, it will be loud and intense.
Last season Army was favored by more than a score and lost.
This season it's almost even and we will likely see a close game.
Midshipmen win.

'Til next time
Jack6 on BLOCK OF GRANITE
Tags: Block of Granite, News
2022-11-20 17:36
Hello RZA Community and greetings from Sidney, the Sunrise City of Montana!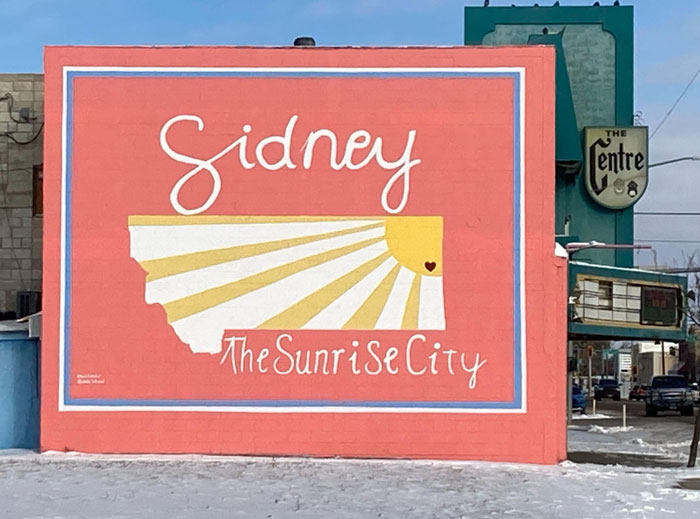 A big thank you to Pete for creating this game and keeping it running for so long. And also to go through all of the trouble and expenses to furnish an actual trophy! We have a great game administrator. And this just isn't a trophy, it's also a chalice!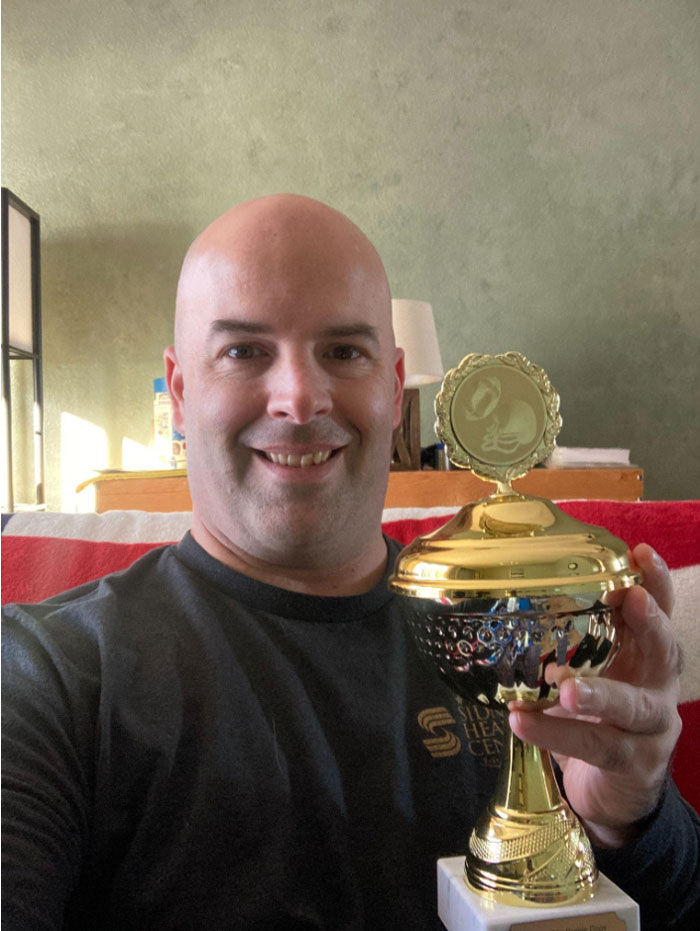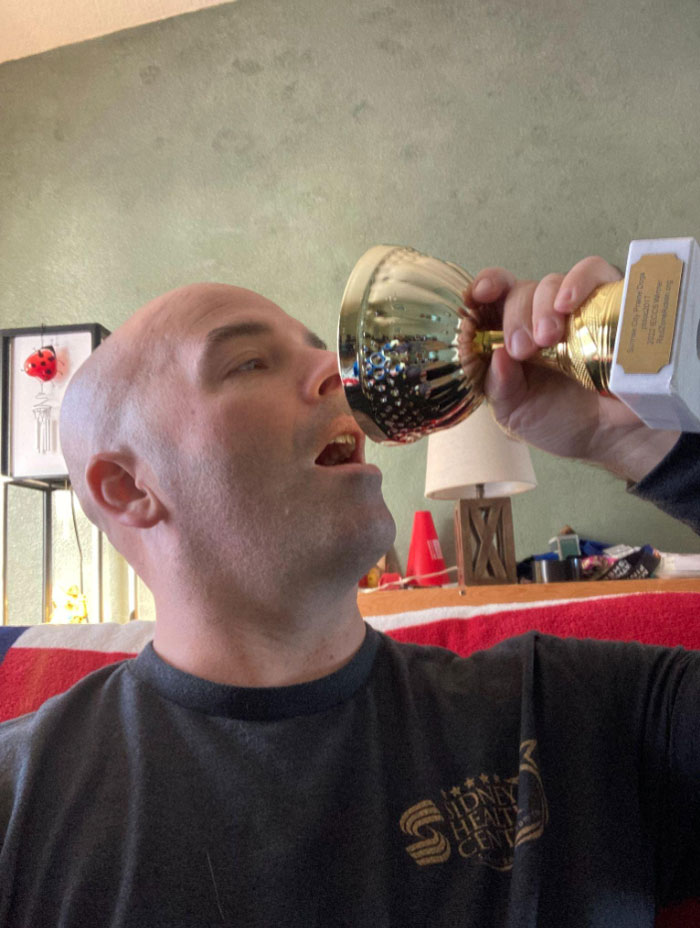 Beyond the prizes for winning, the IECC 5 was a fun and challenging tournament. I think I had a bit of an advantage as my region currently lacks human players giving me more time to focus on putting my best game plans forward. That included creating a special research center to prepare for the championship game against Rufio's Space Kraken.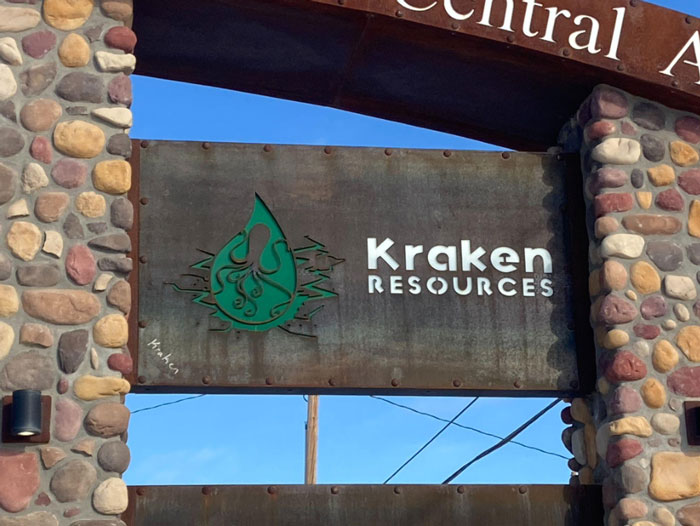 Unlike past winners of this tournament, all of whom hail from larger metropolises, Sidney is a very tiny, isolated farming/ranching/oil boom city on the Montana/North Dakota border (hence the nickname, Sunrise City, as this is the most eastern city in the state). While not truly my home town (I was born in northern Kentucky, about 20 hours away from my new home), it's where I've been for nearly the past two years, so I thought I'd share about my current home town. This is a city of only about 6,000 people, and you would have to drive nearly an hour in any direction to get to the next comparable city. Separating the cities are miles of farms, ranches and badlands.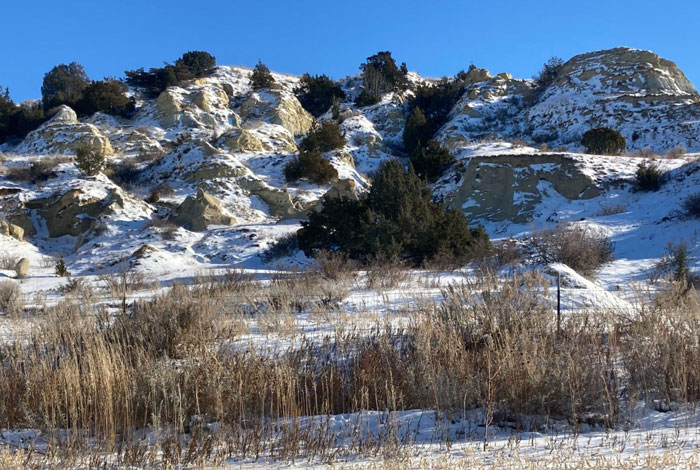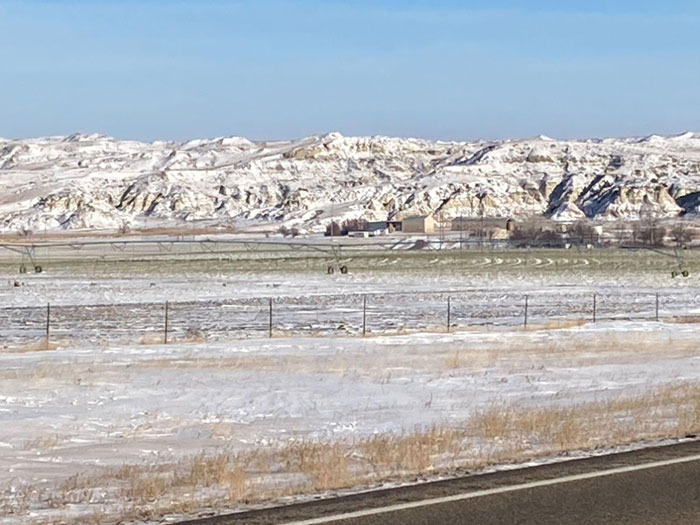 Photos and words don't do the landscape justice. You pretty much have to experience the badlands to appreciate them. The Montana Badlands (Makoshika State Park) and the North Dakota Badlands (Teddy Roosevelt National Park) are both less than an hour and a half away and hiking in either parks is among my favorite things to do out here. Hiking in Teddy Roosevelt, one can come across wild bison (I always do), antelope, elk, deer, coyotes, mountain lions (luckily I haven't experienced that), bald eagles, rattle snakes and, of course, prairie dogs.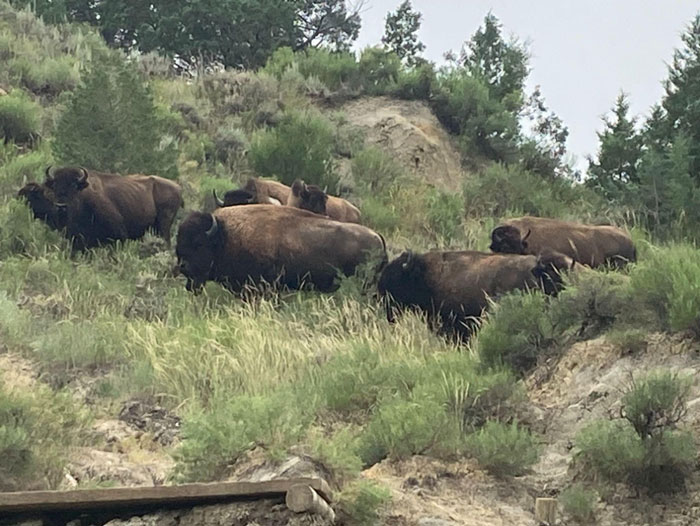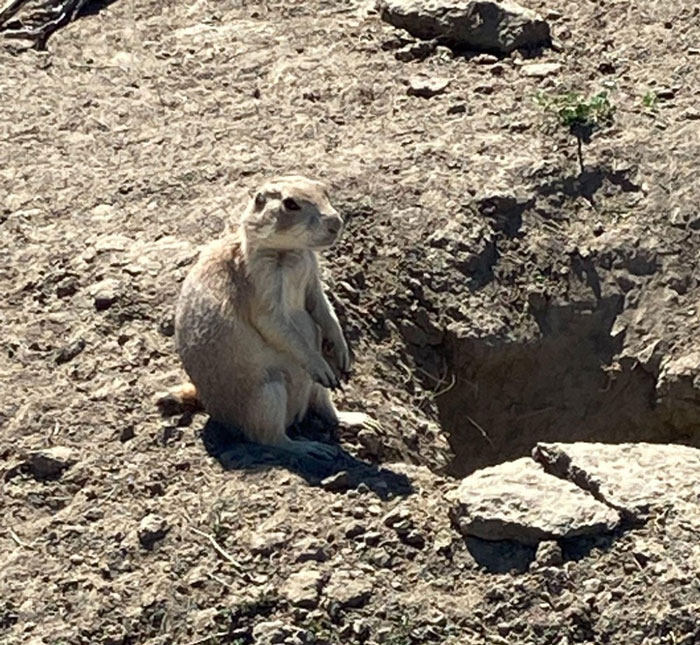 (I was hoping to get a picture of the trophy with a prairie dog, but the weather foiled those plans)
Sidney is nestled along the Yellowstone River, which means that the first non-Native Americans to come through were likely members of the Lewis and Clark expedition. Upon returning from the Pacific Ocean, Lewis took a portion of the team back along the Missouri River while Clark took the rest down the Yellowstone to further explore the region. It's a shallow river so it freezes over for most of winter.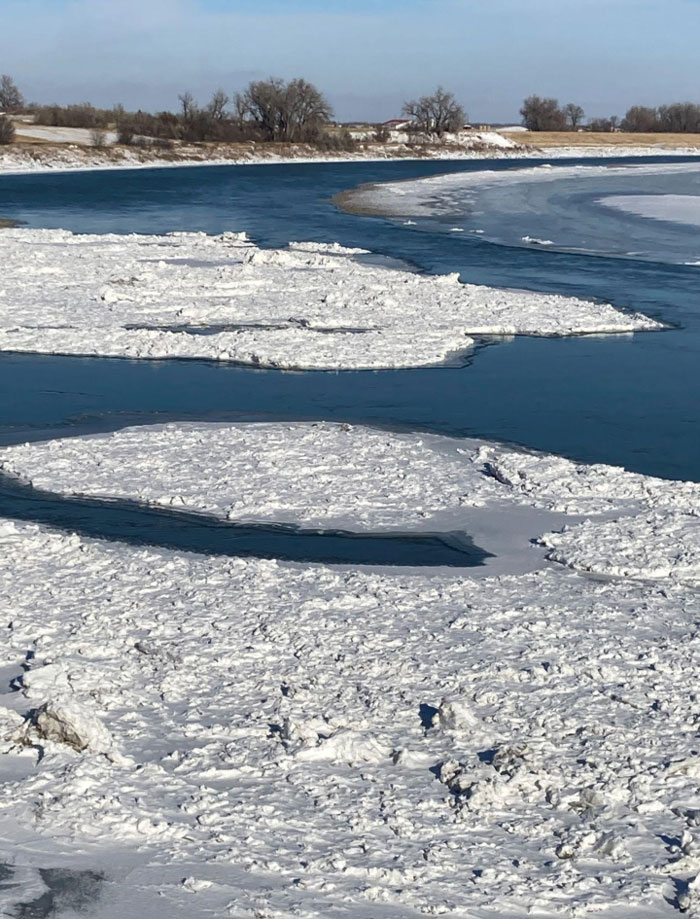 Because of our very dry climate, the Yellowstone and the canal are the primary sources of water for the farmers. While you'll see a variety of crops, the chief cash crop is sugar beets. The harvested beets are then processed into sugar at the local factory. This train engine (already decorated for Christmas) sits in Veteran Park as a remnant of the Holly Sugar Company, which is now Sidney Sugars Inc.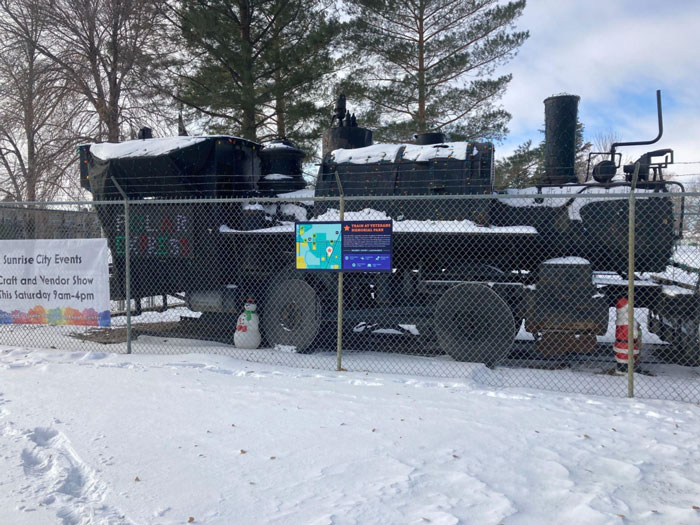 The largest employer in the city is our hospital, Sidney Health Center. We're a very small facility having only 16 hospital beds and three intensive care unit beds. We also have an airplane to fly to hospitals in the region if we aren't able to meet someone's emergent needs.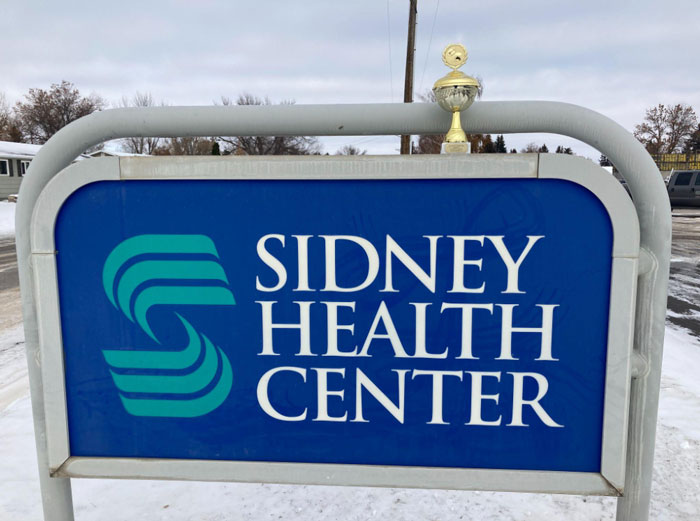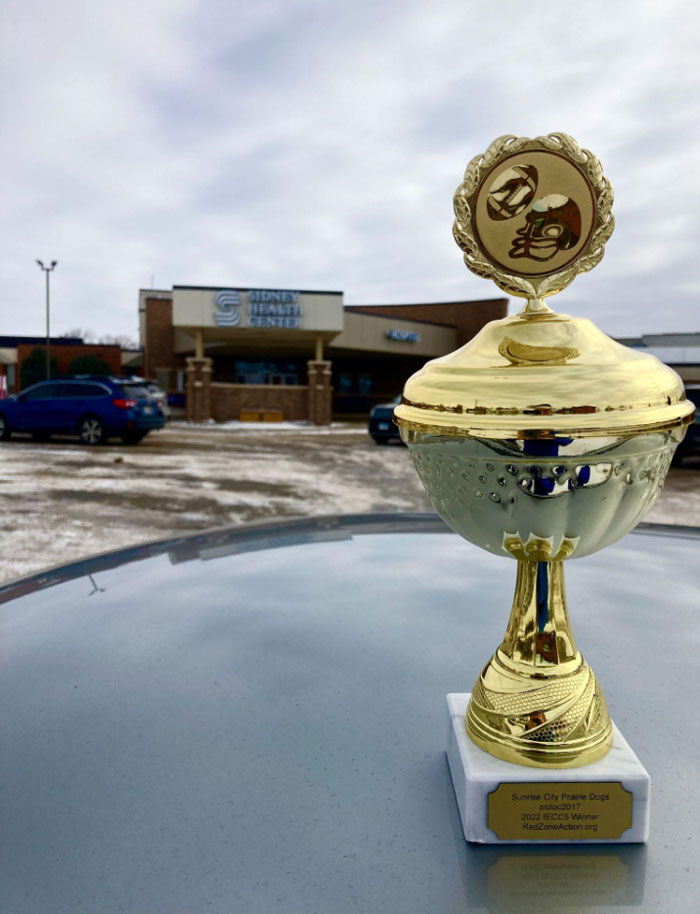 I figure the best way to wrap this up is to share the final resting place of the trophy and one of our famous sunrises.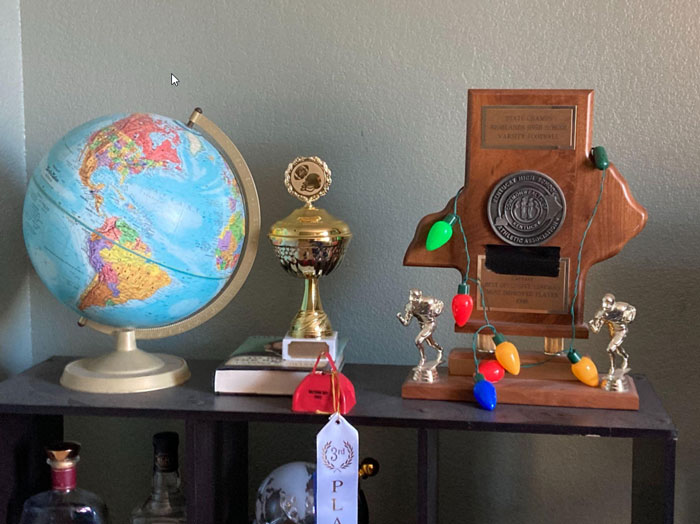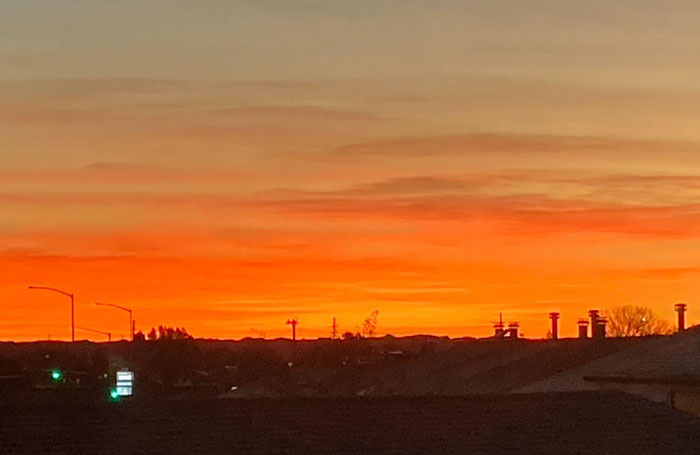 Thank you very much for sharing some impressions and thoughts with us, much appreciated!

Pete, in the name of RZA and its community
Tags: News