RedZoneAction.org Blog
Available tags:
Block of Granite (0/346)

,
Coaches Corner (0/2)

,
Howtos (0/10)

,
Inside Deventer Devils (0/28)

,
Jack6s RZA Guide (0/21)

,
News (0/577)

,
Rumours (0/0)

,
Stories (0/4)

,
Top25 Rankings (0/22)

2021-05-06 21:15
TAKE OVER ANNOUNCED
Today the Deventer Devils have announced that Ronald Vennegoor has sold a 51% stake of the club to Sheik Sulaiman. The Sheik is the father of current Devils' ILB Suleiman Sulaiman. This means that Ronald Vennegoor has relinquished his majority stake in the club and with it the director role that comes with that. This means that with immediate effect Sheik Sulaiman will take up the Director of Football role. Mr Vennegoor will become part of the back office team and will solely focus on the commercial side of the club. His responsibilities will include the management of the stadium, dealing with sponsors and TV deals. Coach Muriki meanwhile will extend his current role as head coach to also include the role as General Manager as well.

GROUNDBREAKING STRATEGIC MEDIA DEAL
On the subject of commercial strategy, the club has right away an exciting announcement to make: the Deventer Devils have struck a strategic deal with Oman based Al Amunis Broadcasting Corperation. The club sees the Middle East as an promising new market where there is great untapped potential regarding american football. Commercial Manager Ronald Vennegoor: "The Middle East is not a region people normally associate with american football but people said that about Europe only 15 years ago. We feel that with an Omani player in our squad (LB Suleiman Sulaiman) we are well positioned to take advantage of the exposure the Deventer Devils will have now in the Middle East. It is our goal to have 25% of our commercial income to come from the Middle East in 5 years. Of course we will reinvest some of that money to provide grass roots infrastructure for an amateur and college-level football league in that region. The ultimate goal will be to have a growing talent pool of which to pick players from.

NEW LOGO REVEALED
Of course with a new group of potential supporters from a different cultural background in mind, the club has also decided to launch a new logo. It was felt the old logo was too graphic and aggressive. The new logo still retains the Devils aspect of the club whilst also taking into account a different group of our fan base. We are therefore proud to announce that we are the first club to have Arabic writing on our logo. The arabic characters spell the word Devil. Although we acknowledge that some part of our current fan base might be apprehensive about this new logo, we strongly feel that this unites all the best parts of two cultures that together will drive the Deventer Devils to new heights!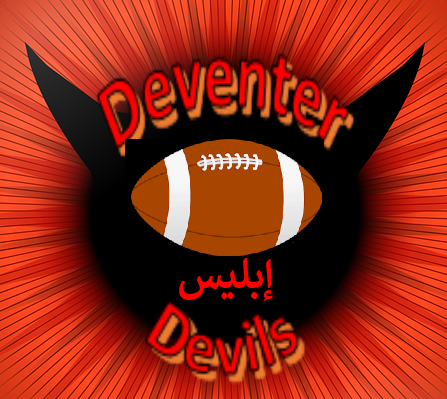 Source: https://redzoneaction.org/football/images/media/2483cf3dc0cdb1e44a59b4ff78f895ce.png

Tags: Inside Deventer Devils