RedZoneAction.org Blog
Available tags:
Block of Granite (0/351)

,
Coaches Corner (0/2)

,
Howtos (0/10)

,
Inside Deventer Devils (0/28)

,
Jack6s RZA Guide (0/21)

,
News (0/585)

,
Rumours (0/0)

,
Stories (0/4)

,
Top25 Rankings (0/22)

2017-03-19 19:42
Hi all,

A few days ago I received a picture and these lines, and want to share this with you!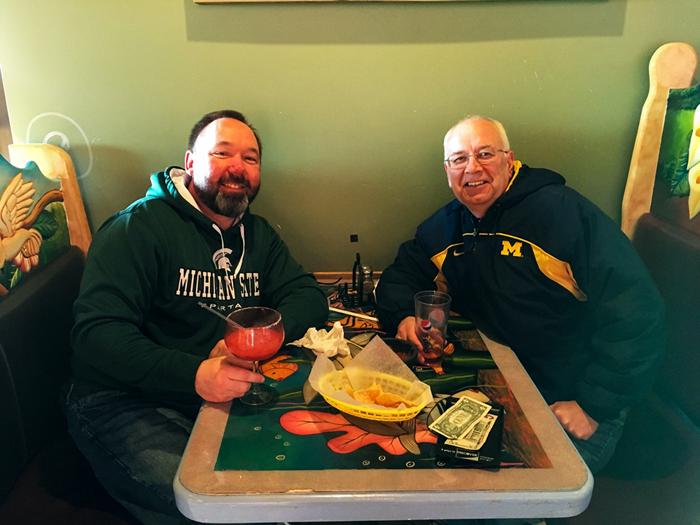 Hi Pete,

After years of going back and forth with the Black Dragons who usually changes his team name to Michigan Wolverines for games that we might play against one another... We discovered first that we both really went to the schools in question. Much more interesting than this was the fact that we actually lived very close to one another, approx. 7km or 5 miles here in the States. We decided to meet for lunch at a very good Mexican restaurant about midway between our houses.

We had a great time talking about RedZoneAction.org and life in general. I think both our wives were more than happy to get rid of us for three hours to talk about RZA with someone other than them :) It was really funny to find out how much I had in common with Angus. We have the same number of children and siblings, we even have a very similar one hour commute to work.

Pete, you have really built a special game and community here. I thank you for that.

I am the one in the really good looking green hoody. And I can not really comment on his choice :)

Mike, spartans11, Michigan State Spartans

GO GREEN!

Thanks to spartans11 and angus for sharing the picture and the story with us!
Tags: News