RedZoneAction.org Blog
Available tags:
Block of Granite (0/351)

,
Coaches Corner (0/2)

,
Howtos (0/10)

,
Inside Deventer Devils (0/28)

,
Jack6s RZA Guide (0/21)

,
News (0/585)

,
Rumours (0/0)

,
Stories (0/4)

,
Top25 Rankings (0/22)

2022-02-12 09:51
The RZA Teams World Cup II will enter tomorrow in the knockout rounds!

I initially planned a weekly report, but life got on the way. Anyway, let's review what happened in the groups phase. And it happened a lot!

If in the Group 1 we did not have any surprise with the USA (San Diego Blitz) and Canada (Tiger Cats) qualifications, several upsets happened in the other groups.

In the group 2, Turkey (Istanbut Whitings) got the best of France (The Alpin Ducks) who could have been eliminated if Czech Republic had won their last game.

In the group 3, England (Chelt Nam Bobbers) exited the competition after Serbia (Dumbarajko Elephants) won all their games and Italy (Raven Loonies) got the best of them.

Finally in the group 4, that's the favorite Nederlands (Willemstad Bridges) who got eliminated after their first two losses against Germany (Salt City Pirates) and the current World Champion Austria (Green Mark Packers).

Like last year, I made a ranking table. Ranks 1 to 8 are temporary while ranks 9 to 16 are final.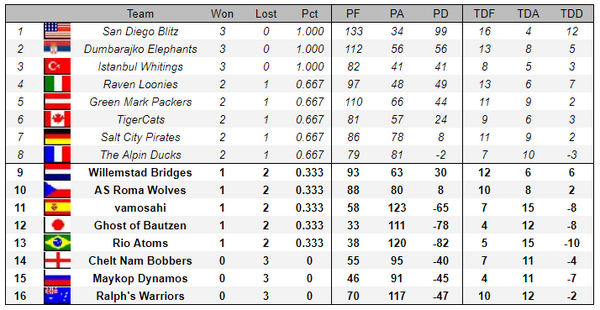 Quarter finals preview





The game of the day will be France at USA, the 2nd ELO ranked team against the 1st one. Both teams are not as dominant as they used too whoch should lead to an open game.

Kanar

Tags: News